Garnet red color with much translucence; vanilla, tar and roses, cherry, spice, earth on intense nose; cherry, raspberry, licorice, cedar, leather on the palate.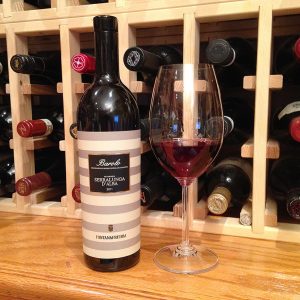 Light body but dense in the mouth, dusty and significant tannin, loads of sweet fruit flavor, tongue-coating softness interplays seductively with gripping tannins and acidity. A long, ripe finish flaunts the superb fruits. Wines made with nebbiolo grapes in the Piedmont region of northwestern Italy typically are known by their regions—Barolo and Barbaresco. This effort pleasures your palate like classic nebbiolo wine made in Barolo. Both Barolo and Barbaresco are among the great wines of Italy and the world, and this Barolo effort does absolutely nothing to tarnish the reputation.
With all its tannin, fruit complexity, and depth, Barolo requires aging. The fact this new release already is almost six years old is common. It will benefit from more time in bottle—various writers predict its life well into the 2020s—but this also is remarkably approachable now, thanks to the vivid and delicious fruits and obvious winemaking skills.
With more time, the fruits and the tannins will mellow and this will be a different pour, maybe not better, but with different charms. Enjoy now its vibrancy and freshness; enjoy later its sophisticated complexity and integration. If you drink now, you will be nicely rewarded by giving it some air/decanting.
The vineyard/winery began in 1858 when Vittorio Emanuele II, King of Sardinia, gave a large parcel of land to Rosa Vercellana with whom he had fallen in love. Rosa was a commoner and daughter of a drum major in the king's service. The granting of the land made her Countess of Mirafiori and Fontanafredda. Twenty years later, Guerrieri, Count of Mirafiore, son of the king with another lover, decided to devote his life to making great wine on the property. Love and passion unfolding, so very wine, so very Italian.
Fontanafredda Serralunga d'Alba Barolo DOCG 2011 is a big step past "entry level" Barolo without a seven-league-boots stride in price. In other words, a wine to find and treasure—the next level in Barolos this good you probably can't find (at least easily) and might not be able to afford if you did find it. Put great Italian reds on your wine bucket list; buy this wine. $41-49
Fontanafredda Serralunga website