Deep ruby color; black cherry on the nose; cherry, bell pepper, plum on the palate.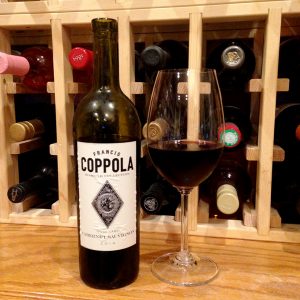 Dry; light-medium body, relatively light tannins and acidity. Blend of 80% cabernet sauvignon, 15% petite sirah, 5% ségalin (a rare French grape that provides struucture). The grapes gathered from all over California, as far north as El Dorado and as far south as Paso Robles. This is an entry-level Coppola play, so don't expect significant complexity and depth, but it is pleasant sipper.
Francis Ford Coppola is a film director, producer, screenwriter, and film composer—his major hits include Patton, the Godfather movies, and Apocalypse Now (there are many others of merit). He used proceeds from his first Godfather movie to purchase the Gustave Niebaum winery and vineyard in 1977. He purchased Inglenook Winery in 1995 and renamed it Rubicon Estate in 2006. Later came purchase of the former Chateau Souverain Winery in Geyserville, CA, where he built a family-friendly resort inspired by Tivoli Gardens in Copenhagen. That facility includes memorabilia from his movies, including Vito Carleone's desk from The Godfather and a restored 1948 Tucker Sedan used in Tucker: The Man and His Dream.
Beyond that, the Coppola brand operates hotels and resorts around the world, including a resort in Belize which used to be his family retreat and The Turtle Inn in Belize—both of which earned prestigious awards. There also is a resort in Lago Petén Itzá, Guatemala, another in Buenos Aires, Argentina, and Palazzo Margherita in Bernalda Italy. Throw in quality restaurants in San Francisco. All of which means there is a lot on the Francis Ford Coppola plate; his children operate parts of the wine operation today—particularly his daughter, Sophia.
Francis Coppola Diamond Collection Ivory Label Cabernet Sauvignon 2014 is not distinguished, but it is an easy drinker at a fair price, a nice weekday wine or a second bottle in a more elaborate soiree or serious wine party with friends. Pair with pizza and burgers/sliders; Italian food, particular pasta with tomatoes and red meats; steaks, barbecue, lamb, aged cheese. $14-16
Francis Ford Coppola Winery website