Deep ruby color; black cherry, plum on subdued nose; black cherry, blackcurrant tang, blackberry, plum on the palate.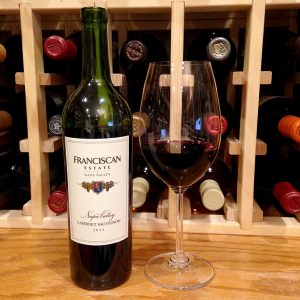 Dry; reasonable acidity for big cab (3.74 pH). This is bold cab—a Franciscan characteristic—with somewhat grainy tannins and rustic elements even after five years. Decanting knocks some edges off and is encouraged, but this still has attitude. I reviewed this wine three years ago and my notes fairly well track, except I found the tannins more relaxed in the first review, and reviews of earlier vintages. That is strange, but shows how different bottles and different phases of your palate affect the wine experience.
Blend of 83% cab, 10% merlot, 3% malbec, 3% petit verdot, 1% syrah. Franciscan's reputation is founded on its ability to deliver an authentic taste of Napa at price folks can afford; 170,000 cases of this are produced, so maintaining authenticity at such production levels is an achievement for winemaker Janet Myers.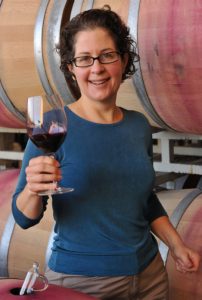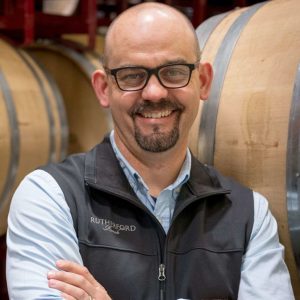 Myers is the director of winemaking after following a non-traditional path. She gave up her pursuit of a doctorate in biological anthropology to move to London to work in the restaurant industry, where she lived above a wine shop and reveled in sampling the wares. "When I realized that this was an industry that combined science and agriculture—which is my family's background—I enrolled at UC Davis and haven't looked back," Myers says. She earned a masters degree in enology and began a career at Robert Mondavi, followed by Santa Cristina Estate in Chianti, work in Australia, Beaulieu Vineyards, Stags' Leap Wine Cellars, and Louis Martini. She came to Franciscan in 2003 and became director in 2005. Jay Turnipseed (what a great name) and Marla Carroll are key players on her team.
Myers eagerly asserts she is captivated by cab. "Cab is king, and I have a deep interest in this renowned variety," Janet says. "Oakville is one of the best spots in the world for growing Bordeaux varietals, especially cabernet sauvignon, so Franciscan's estate vineyard in Oakville is the perfect place to devote myself to exploring cabernet and its nuances. I love the body and texture of cab, how it has layers of intensity and richness, but with elegance and finesse."
Franciscan began in 1972 when wine industry leaders Justin Meyer (founder of Silver Oak) and Raymond Duncan planted Oakville Estate; the men purchased the property in 1975 and built the winery. Today, Franciscan is part of the Constellation Brands mega wine company. The wine is made in the Oakville winery located in Franciscan's Oakville Estate. The winery and vineyards are in the heart of Napa—across the road from Opus One, adjacent to Silver Oak, just west of Screaming Eagle, across Hwy 29 from Robert Mondavi and Far Niente. The winery earned Napa Green Certification in 2009; the focus remains honoring the land. Original owner Agustin Huneeus Sr. famously said: "you don't have brands in our business, you have properties."
Franciscan Estate Napa Valley Cabernet Sauvignon 2013 is an assertive cab from the heart of Napa; decanting helps significantly, but this is not a smooth, easy drinker—it is a robust Napa cab. Pair with rich, hearty dishes, smoked or grilled red meat, rib eyes, brisket, braised short ribs, beef tenderloin with blackberry dressing, lamb chops, bison kabobs with whole mushrooms, cabernet-braised venison cheeks, baked eggplant with mushroom and tomato sauce, spaghetti and meatballs, pizza—you get the idea. $23-29