Medium copper color; watermelon, honeysuckle on the nose; raspberry, strawberry, cranberry, white peach, orange zest on the palate.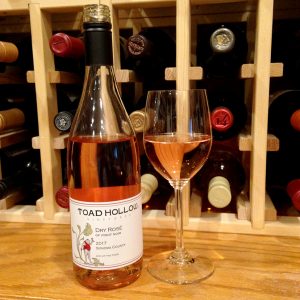 Dry—bone dry, no trace of sweetness; light, refreshing, easy drinking. No oak, virtually no tannin. Subdued fruit—the emphasis is on crispness, edge of tartness, great summer sipper. Made in the style of a Provençal rosé. I have reviewed previous vintages of this wine, and my notes show it to be very consistent.
The Toad Hollow name comes, according to the winery's charming website, from original owners, Dr. Toad (Todd Williams) and The Dancing Badger (Rodney Strong), two friends who decided to start a winery in 1994 instead of retiring and rusting away. It remains family owned, although—from the website: "Heaven is a livelier place these days as both Dr. Toad and Mr. Badger have left their wine glasses with us here on Earth, but we know that these fine gentlemen toast us regularly, as we do them!"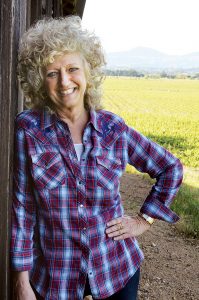 Regular readers know of my admiration of Toad Hollow's president Frankie Williams. Francine "Frankie" Williams has a colorful history that includes working for the CIA. She arrived in California in 1972 and met Dr. Todd Williams. They married in 1978 and operated a San Francisco bar named "Toad Manner." Later, they opened the Whiskey River Inn in the Sierra Foothills before moving back to Sonoma and Healdsburg, where Frankie helped manage a law firm. Then came the wine operation. After Todd passed on in 2007, Frankie vowed to continue and now enjoys her days surrounded by Russian River Valley vineyards, her long-time staff, and fellow growers hauling fruit in from Lodi.
Toad Hollow Vineyards Eye of the Toad Dry Rosé of Pinot Noir 2017 destroys all notions that rosé wines are sweet; this is about as dry as a wine can be. Acidity and minerality, clean, palate-cleansing make it good with food. The lightness and restrained ABV (11.5%) make it a terrific poolside sipper. Pair with spicy dishes, grilled salmon and other fish, rotisserie chicken, buffalo wings, light salads, raw and slightly-cooked shellfish, goat cheese. $12-14