Deep gold color; baked apple, pineapple, brioche, oak on the nose; apple, citrus, white peach, melon, oak spice on the palate.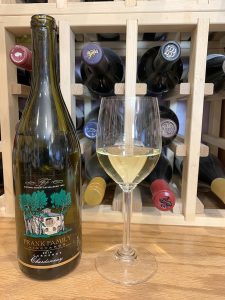 Dry; creamy mouthfeel; juicy white fruits. Big, rich style. Plush easy drinker. Medium-full body. Some oak—fermented in French oak, 34% new, 33% once-filled, 33% twice filled—for eight months. Rested on the lees, hand-stirred regularly to add depth and longevity. Fresh acidity (3.46 pH) gives this balance, especially paired with the ripe fruit. Very consistent; my notes from the 2018 effort track very closely with this bottling. 14.4% ABV.
Todd Graff is the winemaker. On the website, he does the obligatory—but still true—homage to grape sourcing and picking at the precise time. Just about every winery proclaims this fundamental truth, even when not every one truly delivers. Frank Family consistently and truly delivers.
The Family vineyards are near the shores of San Pablo Bay, which delivers the wind, night cooling, and fog essential to the magic of Napa and Carneros—and to high-quality vineyards around the world. As Graff knows. After his UC-Davis education, he worked at riesling vineyards in Germany's Mosel, in sandy soils of St.-Émilion in France, in Australia's Hunter Valley, and at Stag's Leap in Napa. He says the favorite part of his day is walking the vineyards in the morning with his dog, Bristol. I would pick drinking the wine Graff produces over walking a dog, but that would be me.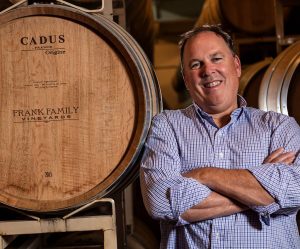 Winery owners Rich and Leslie Frank are stories unto themselves. Rich is a major Hollywood player—former chairman of Walt Disney Television and Communications, president of Walt Disney Studios, head of syndication division of Buena Vista, led development of the Disney Channel, president of Paramount Television Group, a founder of the USA Network, president of the Academy of Television Arts and Sciences. Whew. Google "Frank H. Rich" if you want to know more.
Leslie Frank is an Emmy-award-winning television news anchor and reporter, including nine years with KABC, the number one station in Los Angeles. Now, with that glitz, glamor, and power behind them, they focus on making major wine and spending time with their German Shepherd Riley. At least, that is what their website claims. Dogs are the big focus amid all this? Focus groups must say this image plays well for sales.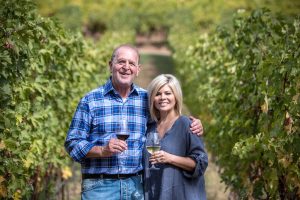 The old joke in the wine industry is that to make a small fortune in the wine industry you must start with a large fortune. I'm not sure that is going on here, or that it matters, but following stratospheric success in the entertainment and television business, these guys and dolls now make some excellent wine. Rock on. Enjoy your dogs. And, as for the small fortune quip, the Franks sold their enterprise to Treasury Americas for $315 million in late 2021, two years after this effort.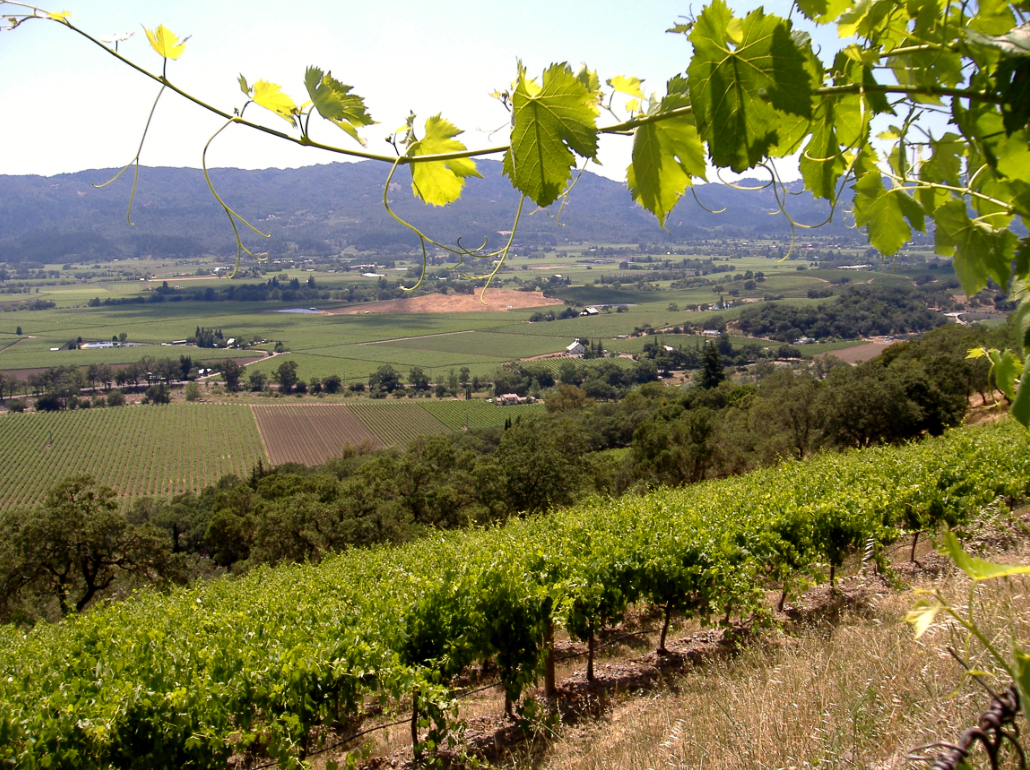 Frank Family Vineyards Carneros Chardonnay 2019 is rock-solid Cali chard. Voluptuous. Well-done oak and malo—this avoids cartoonish California chard stereotype, but does flirt with those excesses. Rich chards such as this work as a solo sipper for people who prefer wine over cocktails or beer. Food pair with richer fare such as steak béarnaise, grilled veal chops with mushrooms, late-summer vegetables such as butternut squash; pumpkin ravioli; fish such as turbot; shellfish in cream sauces; lobster; scallops; movie popcorn. Caution—rich chardonnays do not play well with light cheeses, smoked fish and meats, seared tuna, tomato-based dishes. $30-36
Frank Family Vineyards website
Frank Family Vineyards YouTube video; worth watching