Medium ruby color; cherry, pomegranate, forest floor, rose petals on the nose; black cherry, raspberry, plum, cranberry, strawberry, oak spice on the palate.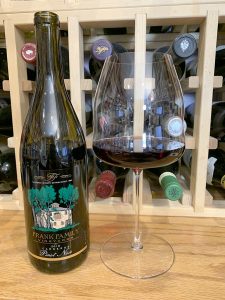 Dry; somewhat tight with noticeable tannins for a pinot noir. Decanting smoothed things out considerably and made this much more approachable. Excellent acidity (3.59 pH). Layers of ripe fruit flavors meld with touches of earthiness and whiff of smoke. Medium body, pleasing texture in the mouth after the decanting. This spent 10 months in 33% new French oak, 67% once and twice-filled French oak. Nice balance of fruit, wood, acidity. 14.5% ABV
Winemaker Todd Graff credits an excellent vintage and winegrowers at Beckstoffer Vineyards and Sangiacomo Family Vineyards for the tasty fruit. Frank Family Vineyards has worked with the growers for more than a decade and says "we are able to fine-tune what we do and get better every year." The Beckstoffer and Sangiacomo vineyards are located in the heart of Carneros, near the shores of San Pablo Bay, which delivers the cool temperature, fog, and wind that engenders the acidity. A small amount of the fruit came from Frank Family's Lewis Vineyard—which provides the fruit for the winery's more expensive estate pinot noir.
Graff went to UC-Davis, then worked at riesling vineyards in Germany's Mosel, in sandy soils of St.-Émilion in France, in Australia's Hunter Valley, and at Stag's Leap in Napa. He says the favorite part of his day is walking the vineyards in the morning with his dog, Bristol. I would pick drinking the wine Graff produces over walking a dog, but that would be me.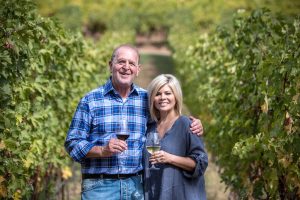 Winery owners Rich and Leslie Frank are stories unto themselves. Rich is a major Hollywood player—former chairman of Walt Disney Television and Communications, president of Walt Disney Studios, head of syndication division of Buena Vista, led development of the Disney Channel, president of Paramount Television Group, a founder of the USA Network, president of the Academy of Television Arts and Sciences. Whew. Google "Frank H. Rich" if you want to know more.
Leslie Frank is an Emmy-award-winning television news anchor and reporter, including nine years with KABC, the number one station in Los Angeles. Now, with that glitz, glamor, and power behind them, they focus on making major wine and spending time with their German Shepherd Riley. At least, that is what their website claims. Dogs are the big focus amid all this? I am sure focus groups say this image plays well for sales.
Frank Family Vineyards Carneros Pinot Noir 2018 is fresh, lively, tasty. Red fruits framed by splendid acidity for a pinot noir. Good texture and appropriate oak. This is the Frank Family Vineyards entry-level pinot noir. It performs very well as a California-Carneros PN, which is different from a Burgundy or Willamette Valley effort. Fuller, more assertive. As a pinot noir, it will pair with wide range of foods. It could work with richer red meats, plus the usual salmon and fatty fish, turkey, roasted chicken, game birds, pork, lamb; delicately flavored, washed rind cheeses; nutty, medium-firm cheese like gruyere; brie, camembert. $30-38
Frank Family Vineyards website
Frank Family Vineyards YouTube video; worth watching