Striking deep pink-ruby color; cherry, rose petals on the nose; cranberry, bing cherry, raspberry, nutmeg, vanilla on the palate.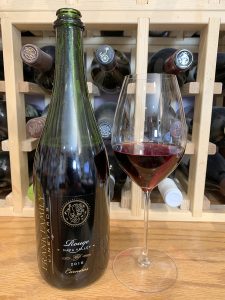 Brut; vivid, tasty fruit; superb acidity (3.28 pH). Made using the traditional method—méthode champenoise—the wine rested on its yeast for three years before disgorgement in April 2020, adding creaminess and complexity. The color comes from a slightly extended exposure to the pinot noir skins.
Todd Graff is the winemaker. On the website he does the obligatory—but still true—homage to grape sourcing and picking at the precise time. Just about every winery proclaims this fundamental truth, even when not every one truly delivers. Frank Family consistently and truly delivers. 12% ABV
Blend of 73% pinot noir, 27% chardonnay sourced from the Frank's premier vineyard, the Lewis Vineyard. The winery notes the vineyard is: "the last vineyard before the bay off the backcountry roads of Carneros. This cool-climate site has been part of our family since 2000 and has become the cornerstone of Frank Family's Chardonnay, Pinot Noir, and sparkling wine programs. What makes Lewis Vineyard to special is its proximity to San Pablo Bay. The bay acts a giant funnel for the cool ocean air and fog that surge through Carneros as they are pulled up into the warmer Napa and Sonoma Valleys. The effect on the vineyard is profound. The grapes, while getting plenty of sun, rarely get too much warmth. Because of the constant caress of cool air, the risk of flavors being baked out of the grapes is virtually nonexistent. As a result, the wines have gorgeous balance."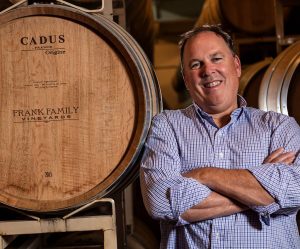 Winery owners Rich and Leslie Frank are star stories. Rich is a major Hollywood player—former chairman of Walt Disney Television and Communications, president of Walt Disney Studios, head of syndication division of Buena Vista, led development of the Disney Channel, president of Paramount Television Group, a founder of the USA Network, president of the Academy of Television Arts and Sciences. Whew. Google "Frank H. Rich" if you want to know more.
Leslie Frank is an Emmy-award-winning television news anchor and reporter, including nine years with KABC, the number one station in Los Angeles. Now, with that glitz, glamor, and power behind them, they focus on making major wine and spending time with their German Shepherd Riley. At least, that is what their website claims. Dogs are the big focus amid all this? Focus groups must say this image plays well for sales. In any event, they are the epitome of a power couple.
Frank Family Vineyards Rouge, Carneros, Napa Valley 2016 is a slightly different take on sparkling wine. Dark color from slightly extended time on the pinot noir skins. Three years on the lees for depth and creaminess. Excellent acidity. All that sets this up as a superb food wine. Pair with appetizers and snacks; charcuterie board; shellfish; lean fish. As with most sparkling wine, it could work with almost any food. $53-60
Frank Family Vineyards website
Frank Family Vineyards YouTube video; worth watching