Deep amber color; dried fruits, marmalade, toffee, oak on the nose; caramel, raisins, dried apricot, honey on the palate.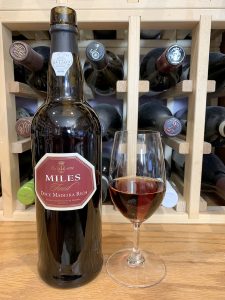 Sweet, but not cloying—110 g/L residual sugar. Appropriate balancing acidity (3.45 pH). Moderately intense flavors with nutty notes. Medium-full body. Miles makes its Madeira in lighter fashion than Blandy's, another major Madeira maker. All rich Madeira's are, well, rich with sweetness and oak influence—"madeira" is the Portuguese word for "wood." 19% ABV
This is Miles's entry-level Madeira. It is made using the "estufagem" process, which mimics the long aging process of much more expensive Madiera. It is used for Madeira wines aged five years or less. This is the common entry-level three-year old effort. Madiera is a fortified wine. This underwent fermentation on the skins with natural yeasts for up to four days, at which time grape spirits were introduced, stopping fermentation at the desired degree of sweetness.
The wine next is aged in stainless steel tanks heated to 113 degrees for four months. Then it is transferred to oak barrels for aging and acquiring the wood taste central to Madeira. The tinta negra grape is by far the most-used grape for this process and used to make this bottle. It is the most widely planted and important varietal in Madeira. This is made in sweet and rich style, but the same grape and process can be used to make a much lighter style called "rainwater."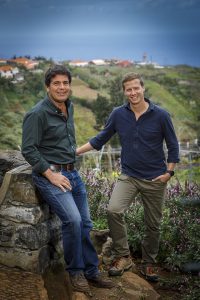 The firm that eventually became Miles Madeira began as Rutherford & Grant in 1814. The website notes: "In 1878, James Price, surviving partner of the firm, was no newcomer to the company for, in 1863 when only 12 years old, he had been apprentice to Rutherford & Grant, having acquired sound knowledge and experience of the working of the Madeira Trade. His sons and grandsons followed him in the business, and Miles Madeira became one of the most respected brands of the island's wine."
Chris Blandy is the CEO of Miles Madeira. The website notes: "During the family's bicentennial year in 2011, the family agreed with the Symington Family to take back the majority shareholding of the Madeira Wine Company and in September, Chris took over the role of CEO of the company. It was quite daunting taking over the year in which the Blandy's Madeira not only celebrated its bicentennial anniversary, but also the first time since 1989 that my family had control of the company. 200 years of history certainly increases the weight of responsibility, but I have found that Madeira wine as a whole is experiencing an exciting growth and with the right team in place, I hope to help reinvent the Madeira market and to set the base for future generations to come."
Miles Finest Doce Madeira Rich is—guess what—rich and delicious, dark fruit delight. Superb introductory wine to the wonders of Madeira. Superb mouthfeel, coating the tongue in pleasure. Works as dessert all by itself. Pair with sweet desserts; chocolate pudding; soft cheese; appetizers and snacks; fresh and dried fruits. $25
Vineyard Brands, US importer of Miles Madeira Wine