Free Run Cellars Rosé, Lake Michigan Shore 2019: Very deep pink-ruby color; cherry, strawberry, redcurrant on the nose; strawberry, redcurrant, kiwi on the palate.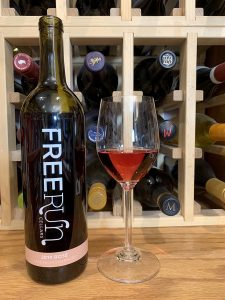 Dry; intriguing blend of 85% chambourcin, 15% seyval from Lake Michigan winery. Fermented and finished in stainless steel; no oak influence. Light body, light in the mouth. Significant fruitiness from rare and somewhat rare, strongly-flavored chamourcin grape. 13.1% ABV
Free Run is a venture by winemaker Mathew Moersch, his wife Erika, and his brother Christian. They focus on single-vineyard production and exotic grapes and flavors. Chambourcin certainly qualifies. The grape has only been available since the mid-1960s. It is especially resistant to fungal disease and is very productive—producing 11-17 tons per acre.
Chambourcin produces very strongly flavored wines—this, for instance, drinks more like a red than a rosé. They are best appreciated chilled, even in their pure red iteration. Certainly true for this rosé. Although it is a French-American hyrbrid, it has mostly found its niche in the mid-Atlantic regions of North America, including Michigan.
Chambourcin juice is deep-colored pink or red rather than the clear color of vitus vinifera juice. As a hybrid, it parentage is uncertain. Joanees Seyve created the hybrid in the 1860s, but it has taken a century for it to become a significant wine grape. The vivid color of this rosé is a result of the color of its juice, not caused by prolonged exposure to its skins.

By the way, Michigan has more than 150 wineries, principally associated with the Lake Michigan Shore where this wine is made. The state surely does not compare to California, Oregon, Washington State, Texas, or Virginia, but Michigan wineries are not unicorns in the wine world.
Free Run Cellars Rosé, Lake Michigan Shore 2019 is not your fainting-couch sister's rosé. Made with a somewhat rare and very flavor-assertive chamourcin grape, it presents more as a light red than a rosé. The grape delivers a taste profile that does not easily fit in the standard vocabulary of wine notes. It is not bad, and it does grow on you as you sip, but it will be a different experience than what you are used to. Best use may be as a solo sipper preceded by "I'll bet you have never tasted something quite like this before." Still, there is versatility here with a range of fare that can fend well with assertive red flavors. $16-22