Pale gold color; green apple, brioche, almonds on the nose; green apple, lemon, pear on the palate.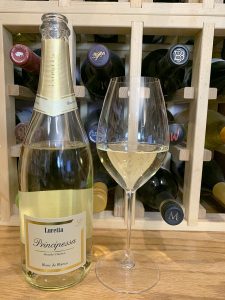 Brut; vigorous, steady stream of bubbles. Mild, non-assertive flavors; brioche dominant flavor from mid-palate through the finish. Very good acidity. Pure chardonnay play. Metodo classico—second fermentation in the bottle.
The wine ages on the lees up to two years. Principessa is Luretta's best-selling sparkling. It is produced with a low dosage to balance structure and clarity. Simplicity is the target, and this achieves it. Expresses the calcareous marls of Colli Piacentini. 12.5% ABV
Cantina Luretta is in the ancient Castle of Momeliano. First mentions of the castle date to 1000 A.D. The website notes: "Despite the passing of centuries, the medieval architecture of the place where we make our wines has remained intact among the hills of Piacenza. The constant temperature of the castle's cellars is ideal for the aging of our finest wines, which rest for up to eight years in the basement of this ancient fortress nestled among vineyards. The scent of oak from the barrels envelops everyone who enters this timeless place."
Just 30 miles from Milan, Piacenza is located in Emilia-Romagna, which is much better known for sweet lambrusco. Luretta does not make lambrusco, which typically is valley-floor agriculture. Luretta focuses on hillside vineyards. Piacenza also is closely associated with table grape production, but beginning in the 1950s that began to change. While the area remains known for value wines, Luretta pushes the quality envelope.
Luretta is an organic farm operation. Owner Lucio Salamini notes in an interview with Forbes Magazine: "We produce organic wines, which means no use of pesticides, no chemical fertilizers, no irrigation, except in case of extreme drought and no synthetic curative products that enter the plant's circulation, but only copper and sulfur-based defense products. In the cellar, I use only products allowed by the Eu organic wine regulation."
Luretta Principessa Blanc de Blancs Brut, NV is delicate, refined expression of pure chardonnay. Faint flavors, vigorous and persistent bubbles. Extended time on the lees gives this impressive complexity at its price point. Much of Italian sparkling wine is made using the Charmat Method (tank method) which certainly works well for prosecco. Luretta opts for the traditional Méthode Champenoise process of a second fermentation that includes rémuage and disgorgement phases. The result is a more refined, delicate wine. This works as an aperitif or with cured meats and cheese on charcuterie board. It will pair with lighter foods, but with its delicate nature not so well with assertive fare. $14-22