Deep ruby-garnet color; dark berries, sandalwood, cherry on the nose; blackberry, cherry, plum, chocolate, redcurrant, spice on the palate.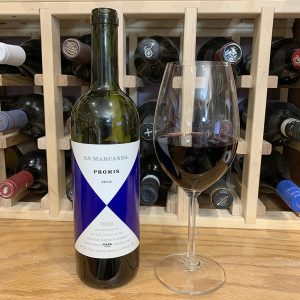 Dry; medium-plus acidity. Medium body. Super Tuscan blend of 55% merlot, 35% syrah, 10% sangiovese. Soft and fruity today—I reviewed this wine and vintage five years ago and it was more muscular and aggressive back then. After right years it may be edging toward the end of its drinking window, but this remains complex, enjoyable, with delicious fruit. My strong guess it will hold at this quality for several more years. This was more polite on the palate than my notes from five years ago, which for many is a good thing. Also an example of how bottle age changes a wine and patience can be rewarded.
The Gaja family created the proprietary name Promis (proh-MEESS) to denote commitment, expectation, fulfillment, and hope. The promise of quality and the reward of diligence and excellence; 2000 was the first vintage. The three grapes ferment and macerate separately for some 15 days, then the combined wine spends 12 months in "slightly used" barriques, giving this wine slight, appropriate oak notes; 13.5% ABV.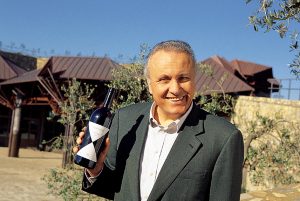 Gaja is one of Italy's most acclaimed makers. Owner Angelo Gaja often is credited with revolutionizing Italian winemaking, especially in Tuscany and Piedmont. The winery started in 1859 when the family immigrated from Spain, began hitting its stride in the 1930s, then pushed to the next level with Angelo in charge beginning in the early 1960s. Authorities proclaimed him "undisputed king of Barbaresco" and "man who dragged Piedmont into the modern world."
By 1985, Wine Spectator opined Gaja's barbaresco efforts were "the finest wines ever made in Italy." Today, some leadership of the winery has partially passed to Angelo's daughters Gaia and Rossana, the fifth generation of Gaja winemakers. Gaia is the marketing face of Gaja wine. She is a graduate of the University of Pavia with a degree in business administration. Her graduate thesis was "The Quality and Image of Italian Wines." Sipping this stuff is to touch Italian (and world) royalty in winemaking. A privilege and a delight.
Gaja acquired its second property in Tuscany—Ca'Marcanda—in 1996. The property is located in Castagneto Carducci in Bolgheri—southwest of Florence, south of Pisa, near the sea. It consists of some 150 acres of vines, most of them planted after the acquisition. Cabernet sauvignon, merlot, syrah, and cabernet franc predominate. Guido Rivella is the winemaker.
Gaja is distributed in U.S. by Terlato Wines, a leading, family run distributor of wine and spirits. Terlato markets one in every eight bottles of wine selling for $14 or more in American restaurants and wine stores. Their portfolio includes more than 40 brands from around the world.
Gaja Ca'Marcanda Promis Tuscana IGT 2012 is tasty, easy drinking wine after eight years. Nice complexity and depth of fruit flavors. Fleshy, concentrated, nicely evolving after eight years. Pair with grilled and roasted red meats; lamb; wild game; chicken in wine sauce; polenta with creamy sauce; smoked meats and cold cuts; fontina, mozzarella, parmesan, pecorino, provolone, romano and many other cheeses. $45-50
U.S. distributor Terlato Wines