Pale ruby color; raspberry, cedar, cherry on the nose; black cherry, plum, chocolate on the palate.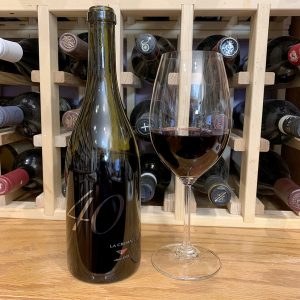 Dry; rich, concentrated flavors. Outstanding acidity (3.45 pH). Very deft use of oak—10 months in French oak, 36% new. Grapes picked early morning; 100% pinot noir from the winery's estate sites: Bell-ower, Piner, Saralee's, Seascape, and Ross. Medium body. Some 20-30% of the grapes fermented whole cluster, adding depth of flavor, smoothness, complexity.
Smooth richness, elegance, sophistication, precision are hallmarks of this effort. The ABV is 14.7%, but is hardly noticeable amid the pleasuring rush of delicious fruit through the finish. No finish burn at all. This was made by winemaker Jen Walsh in collaboration with original founder, the celebrated winemaker Rod Berglund. Head winemaker Craig McAllister participated in this "all hands on deck" effort to celebrate 40 years of La Crema.
La Crema is a family-owned estate in the Russian River Valley in Sonoma and Mendocino counties. Owners Laura Jackson-Giron and her sister, Jennifer Jackson Hartford, founded the winery in 1979 with commitment to quality. Yes, they are siblings, daughters of Jess Jackson, and owners of Jackson Family Wines, a major world player in the wine world. Barbara Banke, Jess's widow, is the chairperson of Jackson Family Wines. Son-in-law Don Hartford is the vice chairman.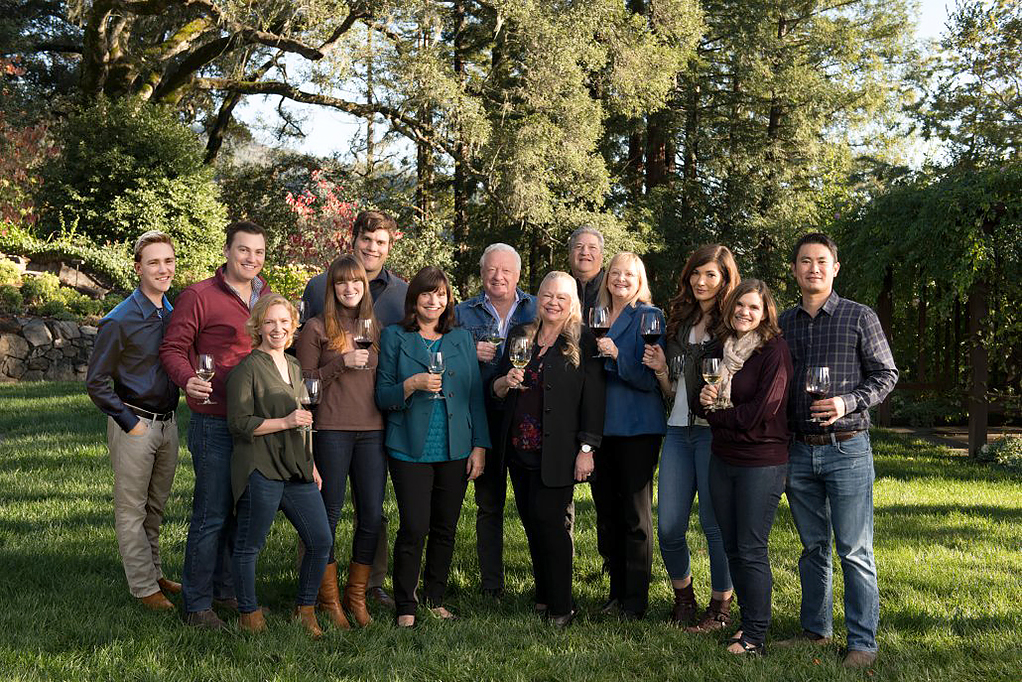 The La Crema operation specializes in Burgundian-style pinot noir and chardonnay. It also has a robust a culinary-restaurant program. There are tasting rooms in Healdsburg and at Saralee's Vineyard at La Crema Estate in an historic barn. To add to the warm fuzzy, La Crema has major commitment to sustainability. Composted pomace (pulp remaining after crushing grapes) is returned to the soil. Recycled material is used in vine trellises. Recycled water provides irrigation. Bird habitat boxes attract owls, bluebirds, and falcons to nest and patrol the vineyards. Encouraged insects reduce need for pesticides (integrated pest management). There is focus on energy efficiency with solar panels. The estate vineyards are CCSW-certified (Certified California Sustainable Winegrowing).
La Crema 40th Anniversary Pinot Noir Russian River Valley, Sonoma County 2018 is exceptionally smooth and tasty. It is a worthy note in La Crema's decades of consistency and quality. Fruit carries this effort. It does not approach coming off as a "big, important, über pinot." It just is delicious and easy on the palate and exceptionally food friendly—an accomplishment higher-end offerings sometimes forget about in their effort to make sure you know this is an impressive, awe-inspiring, look at me! offering. Well, such brazen bombast may be okay for some, but this 40th anniversary pour is nicely, wonderfully demure and pleasing. That should count for something. In fact, in my book, it should count for a lot. A whole lot.
You can drink this solo with wine crackers, maybe some cheese or charcuterie. For your meal, pair with roasted and braised meats; beef stew; pan-seared pork belly; bacon; pork chops; lamb; smoked or seared salmon; breaded cod; smoked turkey; prosciutto and mushrooms; almonds; gruyère, swiss, provolone, brie, camembert cheese. $100
La Crema's very informative website; worth a visit. Many very nice videos.