Deep ruby color; cherry, blackberry, plum, herbs on the nose; plum, cherry, blackberry, blackcurrant, vanilla, oak spice on the palate.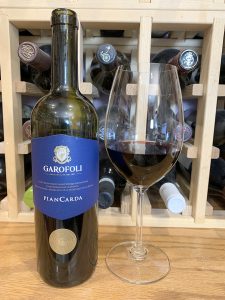 Dry; mellow tannins and acidity. Relaxed wine. Very easy drinker with some dark fruit, black plum flavor bite that lulls you on the initial attack, then bursts forth with some emphasis on the mid-palate and especially on the very long finish. Medium body. Made with 100% montepulciano effort, which they age 12 months in wood and six months in bottle.
The winery takes a largely hands-off approach to allow the montepulciano grape to purely present itself. This is mid-level effort, so it is tasty and approachable rather than complex and multi-layered. Nothing wrong with that, especially at its price point it serves very well as a weekday fun wine to pair with low-maintenance comfort food or home delivery pizza and other Italian food. 13.5% ABV
I reviewed the 2017 vintage of this wine several months ago, then found this older bottle buried in my wine fridge. What the heck, let's see how the wine fared with an extra year of aging. Reviewing my notes, the two vintages track pretty much the same, plus the older vintage held up to an extra year of aging. At this level of wine and pricing, the extra bottle time did not improve the wine, but it did not diminish it either. Proper storage likely helped.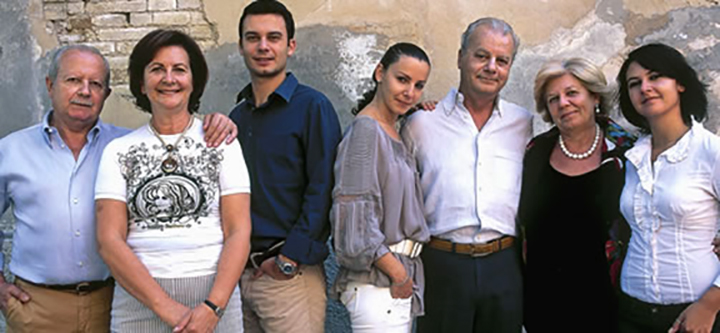 Founded in 1871, Garofoli is one of the oldest family-owned wineries in the Marche region of Italy. It began when Antonio Garofolio began producing wine for pilgrims coming to the famous Basilica della Santa Casa in Loreto. Antonio's son, Gioacchino, founded the winery in 1901. His sons, Franco and Dante, succeeded him after World War II managing 128 acres of vineyards in the zones of Montecarotto (Jesi area) and Paterno and Piancarda (Mt. Conero area), and Castelfidardo.
The winery is now run by the fourth and fifth generations—brothers Carlo and Gianfranco Garofoli and their three children Gianluca, Caterina, and Beatrice. The winery is noted for its verdicchio, where they were among the first in the Marche to reduce yields and experiment with different aging techniques. They pioneered such practices as aging verdicchio wines, using 100% verdicchio rather than blending, using standard wine bottles rather than the old-time "amphora"-type bottles, and bottling a single-vineyard verdicchio (Podium).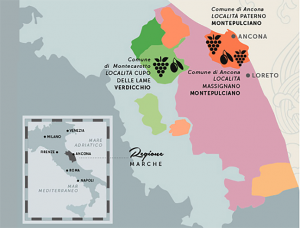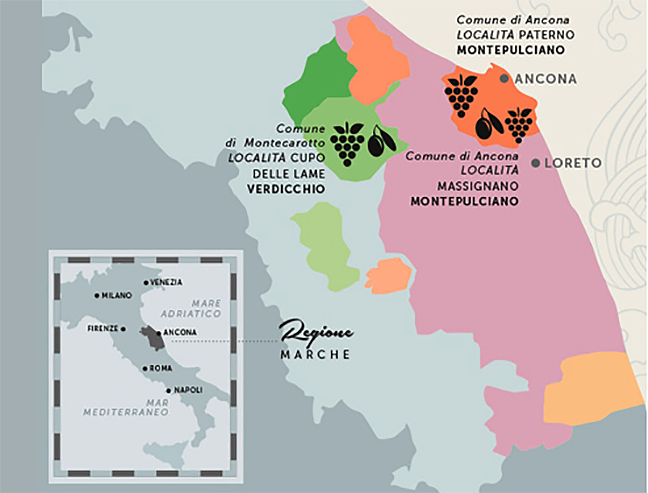 Marche stretches along Italy's eastern coast. Umbria lies to its west, Abruzzo to its south. Climate in Marche varies north-to-south. Its coastal plains roll into hills that become the Apennine Mountains, which run the length of the country. The best Marche wines come from montepulciano and sangiovese grapes. The local verdicchio that the Garofolis are noted for makes crisp, light white wines. The Marche region leads Italy in per-capita wine consumption.
Garofoli Piancarda Rosso Conero DOC 2016 is laid-back easy drinker. Very approachable and quaffable rather than complex. Ripe fruits, earthy. Give it some time to breath and you have a very affordable weekday comfort food or second bottle wine. Pair with sausage (classic with montepulciano); roasted meats; lamb; wild game—venison; pizza; pasta; meatloaf; burgers and sliders; aged hard cheese. $11-16
US distributor Garofoli website