Deep ruby color; blackcurrant, black cherry, pine, oak spice, wet concrete on the nose; blackberry, blueberry, plum, blackcurrant, black cherry, mint hint on the palate.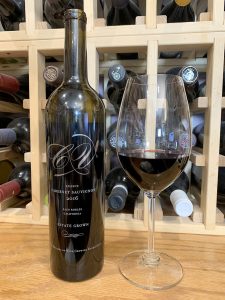 Dry; firm, but not oppressive tannins; balancing acidity (3.67 pH). Medium body; plush mouthfeel. Rich and full of dark fruit flavor. There is freshness that keeps this wine from being heavy. Significant oak, but it works with the fruit-forward approach. Wine aged an average of 23 months in new oak. $14.9% ABV
I usually throw in the price at the end of a review, but this effort is a standout. Prices from around the country vary wildly. Wine-searcher is my go-to site for pricing—a professional resource you pay for. They show it for $39. But I also found wine shops offering this for $25 or less, and others standing firm at $80. This is a limited production wine that Broken Earth only makes in exceptional vintage years—2012 was the previous vintage—and it is sold out on the Broken Earth website. If you can get this for around $25, it is a steal. If you pay around $40, you got a quality wine for a fair price. I wouldn't do the $80, however. The "CV" name comes from the original holdings at Broken Earth—Continental Vineyards.
Broken Earth winery began when Herman Schwartz purchased the property in 1973 and planted 520 acres in grapevines. He embraced sustainable farming techniques, which continue today. There are energy-saving tank temperature control systems. The winery is powered by a solar array. Solar provides the hot water at the winery. More than 360 acres of trees have been planted.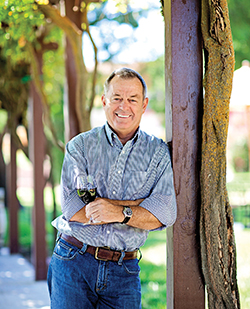 Chris Cameron is the director of winemaking. He is veteran of more than 30 vintages, including the past four in Paso Robles. Prior to that, he worked in Australia, Italy, France, and Turkey. He is an advocate of minimalist intervention. The wine is made in the vineyard, and Cameron believes his job to to allow the vineyard to express itself in the wine. Bravo. A video on the website narrated by winemaker Christ Cameron is worth watching.
Broken Earth Winery CV Reserve Cabernet Sauvignon, Paso Robles 2016 is dramatically smooth and delicious. Lush, plush fruits framed by appropriate oak. Very easy drinker. Another example of how splendidly Broken Earth and Paso Robles can do wine. Paso Robles wants to rival Napa and Sonoma, and with efforts like this, they are making their case. As a cab, this will pair with wide range of red meats, although its reserved tannins mean it may not stand up so well to very rich, heavily marbled cuts.
Fortunately, the winery offers a pairing: "There are many special dishes and occasions that can pair with this wine, but in our humble opinion, only one reigns supreme: seared lamb. Take three inch lamb cutlets, brush with olive oil, black pepper, and garlic, then sear from the bottom and quickly flip to finish." I would add—if you can find Dorper lamb—I know, not easy—it will be the apex lamb you have ever eaten.