Pale salmon color; strawberry, raspberry, cantaloupe, roses, earth on the nose; strawberry, anise, raspberry, cranberry on the palate.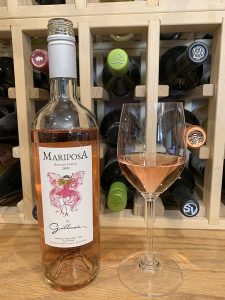 Dry; excellent acidity; light body. Subtle fruits. Low tannin. Smooth, easy drinker. Grapes hand-harvested; pressed and fermented in cold conditions in stainless steel with traditional techniques. Superb acidity (3.28 pH). Low production—just 300 cases.
Pais is the second-most planted red wine grape in Chile. Cabernet sauvignon is the most planted. It is most-concentrated in the Maule Valley, where this wine was made (Tabontinaja Vineyards), and in Bío-Bío, and Itata River regions. It may have the longest wine history in Chile, brought to the country by Spanish conquistadors from Peru. The grape is known as Criolla Chica in Argentina; also as Negra Peruana. It likely is a descendent of the Spanish black grape, which also is the base of the California Mission grape of California. It often is called the "Beaujolais of the Americas."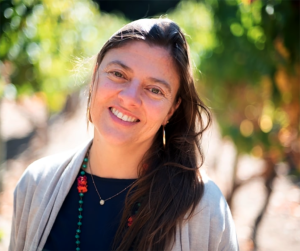 As a thin-bodied, somewhat rustic red it produces a light-colored wine. It also often is produced higher yields, which works against producing quality. It is hardy, flourishes as an ancient vine, is disease resistant and grows very deep roots, making it an ideal vine for dry land farming. Gillmore uses this to produce a light, very drinkable, value wine. Gillmore's rosé is made from 100% pais ancient vines (60-90 years old) only watered by winter rains, making it a dry-farmed vineyard. Daniella Gillmore and her husband Andrés Sánchez are the winemakers.
Gillmore Mariposa Rosado de Pais 2021 is fresh, soft, faint red fruits. Excellent acidity. Very approachable. Superb value. Should please a wide range of people. This is simple wine, but it is refreshing and its excellent acidity makes it a nice food wine. Also as a solo sipper in warmer weather. Works as an aperitif. Pair with Mediterranean dishes—Spanish tapas, Greek meze; fatty fish like tuna; fatty poultry like duck, goose, and chicken; vegetarian fare. Cheese—chèvre, brie, cream cheese, swiss, gruyère, monterey jack. $5-10