Deep garnet color; black cherry, raspberry, roasted tomato, orange peel, cedar on the nose; black cherry, redcurrant, licorice, oak spice, dash of vanilla on the palate.
Dry; rich in the mouth; massive, complex Super Tuscan blend of 62% sangiovese, 28% cabernet sauvignon, 10% merlot; 14.8% ABV. Big ripe fruit, all grown in Texas. Behaved tannin, good acidity. The wine was very full and fruit-forward on the first glass pop-and-pour. Decanting nicely smoothed and integrated the parade of palate-pleasuring flavors, delivering more nuance, depth, and deliciousness.
Bellissimo is Italian for "beautiful," and it is easy to see why Grape Creek gave their flagship wine that name. Without so much as a blush (this is Texas), they announce on their website: "An elegant and graceful wine with a soft, lingering finish, we can expect this to develop into one of our greatest Super Tuscans ever." For the record, this is Grape Creek's 13th Bellissimo vintage, and just two years into its bottle age, Grape Creek clearly avoided bad luck and produced a Texas Tuscan you will enjoy now and will get better with age—if you have the patience.
Grape Creek Vineyards is part of the Hill Country AVA, the second most visited AVA in the United States, behind only Napa. There is legerdemain in that factoid: the Napa Valley AVA includes 225,300 acres, the Texas Hill Country AVA spans more than nine million acres, basically everything north of San Antonio and south and west of Austin.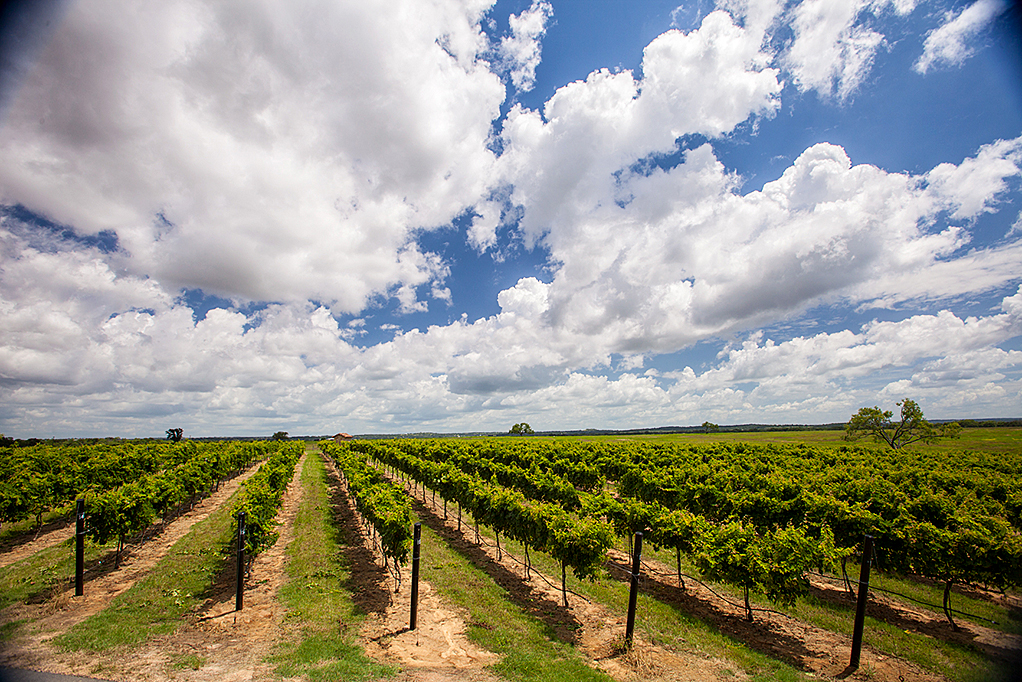 Texas wineries are concentrated in the Texas Hill Country AVA, while most of the Texas grapes are grown in the Texas High Plains AVA, which at more than eight million acres is slightly smaller than the Hill Country AVA. All in all, the two major Texas AVAs sprawl over something like 18 million acres, 80 times larger than Napa. Yes, things are bigger in Texas.
That noted, Texas Hill Country AVA wineries and tasting rooms are worth a visit. Many are located in Fredericksburg, a historic German community between San Antonio and Austin, or located in the tiny farm/ranch towns nearby. The wisdom goes: "You go to Napa to visit vineyards. You go to the Texas Hill Country to experience a tasting room and a restaurant, and some pretty significant Texas characters." That has been my experience.
Grape Creek Vineyards qualifies for at least two. Their estate vineyards are lovely and trim. Their visitor's center evokes Tuscany with Texas-German slant. The restaurant—Stout's Trattoria—has excellent cuisine and great atmosphere. I presume there is a Texas character wandering around, too, I just did not meet him/her during my visit.
All this comes at a price. Texas wines generally are pricey. Most are purchased in Texas. If Texans want to buy Texas wine at a slight premium, that is how capitalism works, pilgrim. Many Texas wineries have limited distribution because of somewhat limited production. You will not find Grape Creek Vineyards wine on a grocery store shelf. Grape Creek sells its stuff through its wine club, online, and at its winery-tasting room near Fredericksburg and satellite tasting room in Georgetown (north of Austin). Why involve a revenue-sucking middle-man?
Grape Creek Vineyards Bellissimo, Texas Red Wine 2017 is impressive Super Tuscan made with Texas-grown grapes. It vividly demonstrates Texas wineries and grape growers can run with the big dogs. The fruit is ripe, lush, delicious, and gets smoother and more approachable after decanting. You will have to work a bit to buy some of this Texas juice, but it will be worth the adventure. Pair with hearty meats—roasted pork, spicy sausage, heavily marbled grilled steaks, wild game, lamb. Also with grilled swordfish, meat lover's supreme pizza, tomato-based pasta. You can drink it solo with a few cheese cubes and neutral wine crackers and have a pretty good Texas time, too. $44