Deep purple color; black cherry, sweet tobacco, plum on the nose; black cherry, sour cherry, black plum, blackberry on the palate.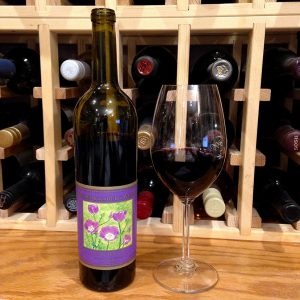 Dry; rich, fruit forward with touch of phenolic, smokey sweetness on the initial attack, followed by an interesting ripple of sour cherry on the long finish. Full body, moderate tannins, some acidity, sensible alcohol—13.5% ABV. This is a big red—more accurately, black—but it does not bowl you over and pummel your palate, thanks to the moderate alcohol and tannins. This also is another demonstration that Texas wines can be quality wines, not novelty adventures.
Alicante bouschet is an unusual grape. It has red skins, red flesh, and red juice (most grape juice, regardless of skin color, is clear or very slight green). Alicante bouschet is the reddest of all red grapes. It principally grows in Spain, followed by France and Chile, but it has done well in Texas and production is on the rise in the Lone Star State. Grapes for this effort came from vineyards in the Texas High Plains AVA.
Botanist Henri Bouschet created alicante bouschet in 1866 when he crossed garnacha with petit bouschet in southern France. In southern France garnacha/grenache sometimes is called alicante. Petit bouschet is grape developed by Henri's father, Louis Bouschet. So this is a family affair in several respects.
Alicante bouschet grows easily and can have large yields. It got a particular boost during Prohibition. There was a law loophole that allowed families to make wine at home. Alicante bouschet's thick, tannic skins made it ideal to transport from Europe and it flourished in California. Grapes would be sold in "grape bricks." You soaked the bricks in water, let nature take its course, and in a few weeks you had legal bathtub wine. Alicante bouschet's intense dark color also meant you could stretch the production with water without noticeably affecting color.
Transportability was a big feature. A single auction lot of 225 train carloads traveled from California to the East Coast in 1928 and sold to a single buyer. The lot included enough grapes to make two million gallons of wine. The Volstead Act permitted families to make 200 gallons. Ahem. And so it went during the insanity of Prohibition.
Texas wineries and tasting rooms are more famous and fascinating than Texas vineyards. Go to Napa for bucolical beauty. Come to the Texas Hill Country AVA if you want welcoming tasting rooms, thigh-slapping fun, and outrageous characters. Outrageous character is where Cord Switzer enters this review. The Switzer family owns the iconoclastic winery. If you visit Fredericksburg, the Fredericksburg Winery and Cord Switzer are must visits.
Frolicking behind the serving bar, Cord generates almost non-stop banter. One signature line: "If you don't like the wine, pour it in that bucket over there. We ship it to California and they turn it into merlot." He also proudly touts his nickname. "It is short for nothing. My real name is Spencer Alwin Switzer Jr.—you try saying that after drinking wine all day and it doesn't work out well."
Cord flew helicopters in Vietnam, then taught at the university level for 20 years. His wife Sandy, the general manager, was a wine buyer for American Airlines. Cord blames her for getting him into wine. Thank her when you visit.
The winery makes some 7,000 cases a year from purchased grapes. You can see the winemaking in the back of the tasting room building. Sales come from the tasting room and over the phone—(830) 990-8747. No internet or wine club sales. Fredericksburg Winery only ships in Texas; give them a call for details. Expect to be entertained even by such utilitarian communications. Like many Texas wines, Fredericksburg Winery Alicante Bouschet is worth the trouble to obtain. How many alicante bouschet wines are in your collection?
Fredericksburg Winery Alicante Bouschet, Diamonte Doble Vineyards, Texas 2016 is rich, delicious, with entertaining smokey sweetness. If you enjoy big zins, petite sirah, or monastrell (mourvèdre) you will appreciate this fleshy, flagrantly fruit-forward, all-Texas-fruit wine. The decorous alcohol makes it more food friendly than its blowzy massive red brethren, but you will still want to pair with intense fare such as Texas barbecue, porterhouse steak, prime rib, roast beef, teriyaki, carne asada, pasta dishes with marinara sauce, grilled vegetables. $29.95
Visit the website for Polaroid shots of winery and personnel. Yes, Polaroids. They still exist.