Hacienda de Arínzano Tempranillo 2012: Medium ruby-garnet color; cherry, fig, mint, smoke on the nose; black cherry, plum, blackberry, dark berries, leather, meat on the palate.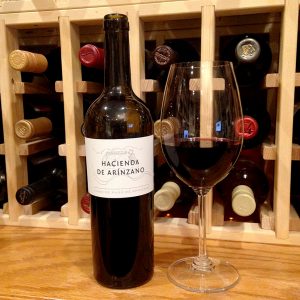 Dry; gritty tannins even after six years in bottle, the tannins significantly improve with decanting; there are some herbaceous notes—tomato, herbs. Blend of 80% tempranillo, 10% merlot, 10% cabernet sauvignon spent 14 months in new French barrels, 40% new, 60% second year, but the oak is background music, not a boom-box blast. Decanting brings out softer, silkier side of this effort, especially as this is low-acidity wine. There remains a rustic finish, with the tannins taking hold even after decanting. Such is tempranillo.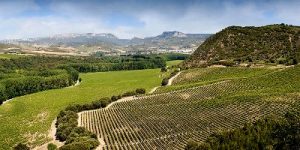 The 877-acre Arínzano estate is located in northeast Spain between Rioja and Bordeaux in a valley formed by the last slopes of the Pyrenees and watered by the River Ega. The website states: "The Arínzano estate stands out based on the uniqueness of the terroir, its history, art and environment, and the exceptional potential to give life to wines that would be a reference of the highest quality and singular character. The aim is to create wines that express the singular character of the Arínzano estate vineyards. We use the most advanced and careful techniques to guarantee an artisanal treatment through the whole winemaking process, and we pursue a viticulture that not only respects, but actually favours the natural environment. As a result, Arínzano is one of the few estates in all of Spain to be recognized with Pago status, and the first Pago in the North of Spain."
Vino de Pago is a classification for Spanish wine applied to individual vineyards or wine estates, unlike the Denominación de Origen (DO) or Denominación Calificada DOCa) which is applied to an entire wine region. The Vino de Pago classification was introduced in 2003 by the Spanish parliament, to help further improve the quality of Spanish wine. Arínzano earned its pago status in 2007. The quality requirements for a Vino de Pago correspond to those for a DOCa wine, and wine estates that are classified as Vino de Pago are subject to separate requirements rather than those of the wine region where they are located. One of the requirements is that the estate may only use their own grapes for their wines. The Spanish word pago comes from the Latin word pagus, meaning a country district.
Hacienda de Arínzano Tempranillo 2012 has rustic elements that can be tamed by decanting. It is, after all, tempranillo, which is much closer to bold cabernet sauvignon than to pinot noir. It is the fourth-most planted variety in the world and one of the nine noble grapes, but one that many people have little or no experience with. Join Spanish drinkers and be adventurous. Give this a try for something new to your palate. Pair with red meat where tempranillo's savory elements will play well with many cuts of beef, also with ham, lamb, roasted vegetables, hearty pastas, pizza, beef fajitas and burritos, chile rellenos, burgers and sliders, barbecue. If the assertive, savory tastes are there, this will be more than able to hang with them. $18