Medium straw color; melon, pear, honey, honeysuckle on the nose; melon, citrus, lemon, honey, grapefruit, touch of green apple, pear, almonds and oak spice.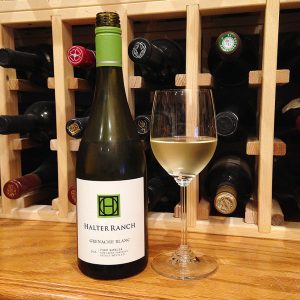 Dry; terrific acidity (3.18 pH), minerality; lively, vividly intense throng of fruits; medium in body, smooth in texture, especially after a bit of air in glass. Honey, almonds, picpoul blanc tang take on more prominence on mid-palate and finish; food-friendly acidity persists from start to finish.
Rhône blend of 80% grenache blanc, 14% picpoul blanc, 4% roussanne, 2% viognier; all grapes 100% estate grown from Adelaida district in western Paso Robles; certified sustainable farming. Juice fermented in new Hungarian oak puncheons and neutral French oak, stirred on the lees, aged sur lie four months in same vessels juice was fermented in, no malolactic fermentation. Kevin Sass is the winemaker.
You likely are familiar with grenache and grenache blanc. Picpoul blanc, on the other hand, is one of the less-well-known Rhône varietals. Picpoul is one of the 13 varietals permitted in Châteauneuf-du-Pape. It principally is used as a blending wine to add its great acidity—loose French translation of "picpoul" is "lip stinger." In addition to its acidity, it adds tropical fruit elements. There is a dark-skinned version, picpoul noir, and a gray-skinned version, picpoul gris. Other spellings include piquepoul and picapoll.
Halter Ranch Vineyard began in the 1880s when it was part of a 3,600-acre holding owned by businessman Edwin Smith. Born in New Jersey, Smith was a wholesale butcher in San Francisco, then migrated to Adelaida area west of Paso Robles in 1874. He acquired what would become Halter Ranch and built a Victorian farmhouse. That house burned to the ground in 1885, but Smith rebuilt it and that structure remains on the property today.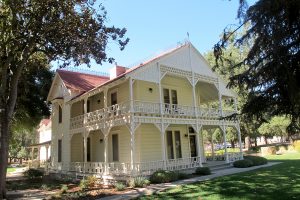 Eventually, Smith's business faltered, and the ranch was broken up in the early 1900s. The MacGillivray family purchased 1,200 acres in 1943 and farmed the property for most of the next 60 years, introducing grapevines in 1996 during the time the Paso Robles wine industry was born.
Hansjörg Wyss purchased 900 acres of the ranch in 2000, renovated the historic Smith farmhouse, and expanded the vineyard to its present 280 acres.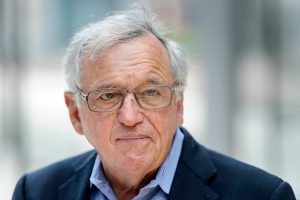 A Swiss-born billionaire, Hansjörg believes Paso Robles is the best place in the world to pursue his dream of producing world-class grapes and wines, and he has the money to do it, selling his Synthes USA company in 2012 for $21.3 billion. Wyss is a strong supporter of wildlife and public land conservation. The Halter Ranch includes 1,800 acres of wildlife preserve. Sunset Magazine named the ranch the "Best Vineyard Experience" in 2015.
Halter Ranch Grenache Blanc Paso Robles 2015 is a vivacious, appealing, food-friendly wine in a league with sauvignon blanc, un-oaked/no malo chardonnay and chenin blanc. The range of grapes in the blend gives this depth and character that evolves in the mouth and in the glass, particularly as wine warms a bit and gets some air exposure. The tangy picpoul element gives it distinctive, intriguing character. Pairs with seafood, bouillabaisse, roast fish, prosciutto and melon, summer salads, chicken, rich cream or butter sauces. $26