Medium straw color; tangerine, apple, minerals, flowers on the nose; citrus, tangerine, lilt of lemon, almonds, fresh herbs on the palate.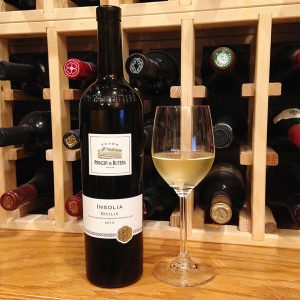 Dry; nice acidity and minerality; no oak; crisp and refreshing; similar to sauvignon blanc, but without grassy notes, also similar to un-oaked chardonnay—split the difference. Should be very food friendly; easy drinker with acidity that is noticeable but not flauntingly assertive. Fermented and aged in stainless steel.
This wine comes from the Sicily DOC and is a brand of Zonin, Italy's largest privately-held wine company. Established in 1821, Zonin now is in its seventh generation of family ownership. Domenico Zonin took over management of the company from his father, Gianni Zonin, in 2004; Gianni had run the business since 1967. During Gianni's 37 years at the helm, he took the company from a local maker in Vicenza to its present position as the "Gallo of Italy" by emphasizing a green approach to ecologically sustainable viticulture and control of the wine process from vineyard to distribution. Antonio Froio is the winemaker in Zonin's beautiful winery and vineyards in Sicily. The website has a nice video of the Sicilian operation.
Insolia (also spelled "inzolia") is the great white wine grape of Sicily, although it also is found in Tuscany as ansonica. It is most famous as the traditional ingredient in fortified marsala wines, but now is gaining popularity as a crisp, white, dry wine—this is good example by a major Italian maker. Insolia is moderately aromatic wine that usually displays citrusy characteristics with some nutty elements. This effort certainly tracks with that. In the past, insolia tended to lose acidity late in the season, but modern viticulture and winemaking techniques have demonstrated it can be made into a sauvignon blanc/un-oaked chardonnay style wine, albeit with its own distinct and pleasing nuances. Insolia tends to get flabby (not enough acidity) when it is left on the vine too long, but astute makers like Feudo Principi di Butera/Zonin have learned to avoid that mistake.
Feudo Principi di Butera Insolia Sicilia DOC 2015 is nicely crisp, palate-cleansing, dry white wine similar to sauvignon blanc with not quite the sharpness of a New Zealand sauv blanc; it also should appeal to folks who enjoy un-oaked chardonnay. The wine smooths out with some air in the glass and rise in temperature to become a pleasant easy drinking solo sipper with the nuttiness more apparent. Pair with risotto with mushroom and walnuts, salmon sashimi, seafood pasta, pan-seared fish, slow-roasted chicken, steamed clams. $14-15
Zonin Feudo Principi di Butera website, with nice video of the Sicilian operation