Medium ruby color; raspberry, cherry, cigar box on the nose; raspberry, cherry, clove, blueberry, plum, hints of chocolate and cinnamon on the palate.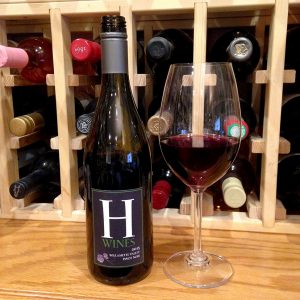 Dry; light-medium in the mouth with structured, grippy tannins and balancing acidity (3.65 pH). Surprising tang on the finish that I did not get in initial sip; a feature, not a flaw, it adds drama to the experience since the initial attack says this is more etherial effort. This clearly is a Willamette Valley pinot noir, with all the praise and honor that accompanies such a designation.
Some oak, but not overdone—17 months in new French. Fruit forward from a collection of vineyards—Levee, Lazy River, Mt. Richmond, Bayliss-Bower, Le Chenaie, Bieze, and Manuela, all in the Willamette Valley. This is Hamacher's second label, so it lacks some of the depth and complexity of their more expensive efforts, but it is a perfectly lovely, light-medium bodied expression of Willamette pinot noir. There is a reason Oregon/Willamette has become pinot noir lovers go-to appellation, and this wine is one of them.
Eric Hamacher is one of many winemakers who started out on a career path to becoming a doctor but switched to making wine. After working a harvest, he was hooked, and attended University of California Davis, receiving a degree in viticulture and enology. He gained experience at various wineries including Mondavi, Chalone and Etude and finally ended up in Oregon.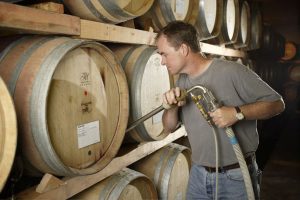 With his wife, Luisa Ponzi, he started the 2000 case winery, Hamacher Wines, in 1995. Eric was the driving force behind the Carlton Winemaker's Studio, a "green" LEED registered cooperative winemaking facility that opened in 2002 and is now home to as many as twelve different wineries. The 15,000-square-foot gravity flow winery is a partnership between Eric and his wife Luisa Ponzi, winemaker at Ponzi Vineyards, and Ned and Kirsten Lumpkin of Lumpkin Construction in Seattle and Lazy River Vineyard in Yamhill, Oregon.
Luisa Ponzi is a major story in her own right. Daughter of Willamette Valley wine pioneers Dick and Nancy Ponzi, Luisa is an example of how women are now some of the premier winemakers in the world. In part, it is biology—statistically women are more likely to have superior noses to men and more taste receptors than men, plus they can multitask more effectively than men. Luisa is more than a giant in Oregon winemaking, she is force in the entire wine world. She and her sister, Maria (director of sales and marketing) became the owners and operators of Ponzi in 2012, making Ponzi one of America's few sister-run wineries. May the sisterhood of wine continue to increase. Eric and Louisa have four children.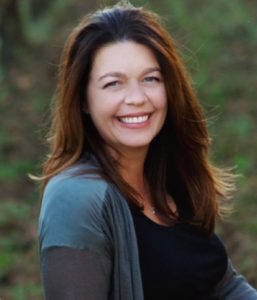 Hamacher Wines 'H Series' Willamette Valley Pinot Noir 2015 hews closely to the lighter style of Oregon/Willamette pinot noir, although it does an intriguing bit of bite on the finish. The product of Willamette Valley wine royalty, it is a charming second-label for Hamacher Wines. Pair with garlic and herb roasted pork tenderloin; roast pork glazed with cranberry; oven-baked salmon; coq au vin; roast chicken; duck; sage and honey basted quail; risotto with taleggio cheese and stewed tomatoes; shaved Brussela sprouts salad with mustard and parmesan. $22-26