Deep ruby color; cherry, violets, expresso, chocolate, minerality on the nose; black cherry, black plum, blackberry, blackcurrant, chocolate, spice on the palate.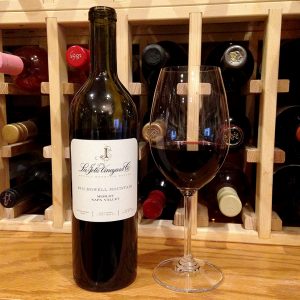 Dry; full body; wonderfully velvety tannins and balancing acidity. Generous fruits throughout, including impressively long finish where minerals, spice, and hint of mint take center stage. Deftly controlled oak, even with 22 months in 72% new French wood. Blend of 90% merlot, 10% petit verdot. Impressive depth and structure; vibrant, intense, complex—a merlot for people who prefer cabernet sauvignon. Excellent acidity—3.43 pH.
This is impressive on pop-and-pour, but before finishing the first glass I went to decanting and was handsomely rewarded. Decanting takes the mid-palate bite out of the velvety tannins, exposing further the serious range and richness of this merlot that demolishes any misguided Sideways prejudices you may still harbor. Sideways was a fiction book and a movie with merlot as the villain and pinot noir the hero. The real world is more multifarious.
The La Jota winery was founded by Swiss immigrant Fredrich Hess on Howell Mountain overlooking the Napa Valley in the 1890s. They received a gold medal at the World's Fair of 1904 in St. Louis ("Meet me in St. Louis, Louis. Meet me at the fair.") Today, wines are made from low-yielding vines on volcanic soils at relatively high elevation for Napa.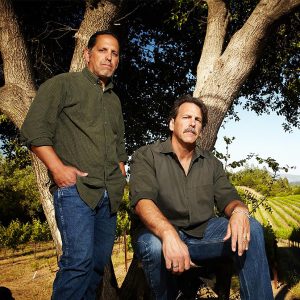 Winemaker Chris Carpenter has a nice riff on the La Jota website: "The isolated, bucolic setting of La Jota's vineyards and winery seems timeless, not a lot different than in the late 1800s. The people who have passed through here tell its history: the mountain was settled ages ago by the Wappo tribe; a Mexican general granted the land to a pioneer settler from North Carolina; a Swiss immigrant founded the winery; an Italian mason likely designed the stone winery built by Chinese laborers, and the land was planted with French grape varieties. That is the story of America."
Sadly, the idiocy of Prohibition effectively destroyed quality wine production on Howell Mountain. The region became a haunted land of "ghost wineries." A half century ticked by until, in 1974, former oilman Bill Smith acquired La Jota and planted vines. Eight years later, in 1982, the revived La Jota was officially bonded. In 2005, wine pioneer Jess Jackson and his wife Barbara Banke purchased the property.
Howell Mountain was the first Napa sub-appelation, and it is not defined by geography but by elevation—1,400 feet to 2,400 feet. There are sixteen micro-blocks included in La Jota's 28 acres. Most are cab, but this comes from their merlot and petit verdot sites. This necessitates multiple passes at harvest to collect only the fruit ready for harvest, all by hand, an investment in manpower that delivers its reward in efforts such as this. The Winery Block, sited next to the original 19th century stone winery, is planted with St. George rootstock and includes phylloxera-resistant cabernet franc vines that date back more than 40 years.
La Jota Merlot, Howell Mountain, Napa Valley 2015 is serious wine, serious merlot. Robert Parker's website scored it 94 points if you are into wine scores. You get the entire, impressive mountain merlot with this effort. Forget about the cheap, insipid merlot plonk that spoiled the variety's reputation in the 1990s. That is so 20th century thinking. This is a wine for today—pure, powerful, impressive. Pair with beef stroganoff; grilled flat iron steak with blue cheese butter; lamb burgers; roast chicken with thyme and onions; meatloaf; roast pork loin; slow-simmer beef stew; veal chop with portabello mushrooms; shepherd's pie; hamburger steak with onions and gravy. $82-85