Medium gold color; pear, tropical fruit, apple, toasted oak on the nose; crème brûlée, pear, buttered toast, candied pineapple, baked apple, oak, vanilla on the palate.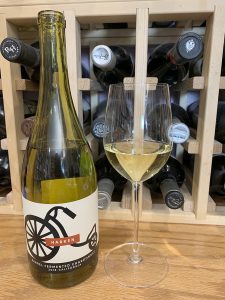 Dry, but the rich, style comes across as sweet. The residual sugar is .7, by no means flagrant, but you will experience sweetness from sugar and floridly ripe grapes. Fermented in oak, complete malolactic fermentation in oak. Held seven months in fusion barrels of French and American oak. Full body. Lush, heavy, almost syrupy texture. Some balancing acidity (3.65 pH), but this is made in cocktail wine style to be sipped cold by itself. 14.5% ABV
Harken notes: "This rich Chardonnay exhibits a classic profile of tropical fruit and Bosc pear alongside warm oak aromatics. The luscious palate suggests crème brûlée and buttered toast, and finishes with fresh acidity."
If you are into the Cali chards of yesteryear, you will find this an exquisite libation. It almost is a love-it-or-hate-it wine, but Harken did a professional job and avoids becoming a candified cartoon wine that leaves oak splinters and an oleaginous slab of butter on your tongue. In short, well done if this is what you want out of your chardonnay.
I wrote a similar review of the previous vintage of this wine. Both vintages are consistent with each other. It will not become a new favorite of mine—I prefer less oak and butter—but the last vintage and this vintage is way more than drinkable. I am certain there are sippers who will love this effort from winemaker Adam Popp.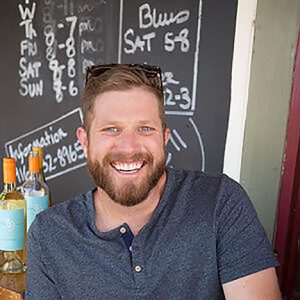 Popp has an interesting journey to winemaker. He earned a bachelor of arts in psychology at Cal State-Long Beach, then a master of science in clinical psychology at Cal State-Fullerton. He had, however, been infected with the wine bug. He worked at Peachey Canyon Winery and Chronic Cellars in Paso Robles.
The glory of wine, and especially chardonnay, is that it is almost infinitely versatile. Wine can treat you so many different ways, you gotta love at least one of them. I enjoy way more than one style of wine. I like to think I can see what is pleasing in a wine to someone even when it is not so pleasing to me. That is this wine. This style is not a favorite of mine, but it is well done for what it is.
Harken Barrel Fermented Chardonnay 2018 is throwback to the glorious days of yesteryear when oak, butter, and big fruit were the West Coast wave to ride. There is no doubt this has appeal, especially if you are into softer, sweeter, very easy drinking wine. Nothing wrong with that. The ability for chardonnay to deliver to a variety of palates is one of the grape's greatest attributes. Good solo, also will go with salty foods; fried chicken; strawberry-infused cream cheese over smoked salmon topped with caviar; pan-seared scallops with wine-garlic cream sauce. Movie theatre popcorn. You see the drift: creamy, rich food flavor will pair with the creamy, bold, full-body flavors of this wine. Excellent value. $10-15