Deep purple color; dark fruits, black cherry, blackcurrant, blackberry, licorice, smoke on the nose; ripe dark fruits, black cherry, blackberry, plum, coffee, tar, spice, oak on the palate.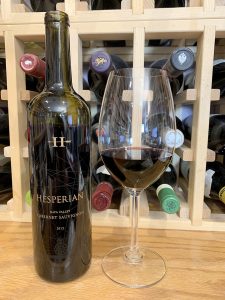 Dry; very dense, jammy dark grape experience. Chewy tannins, ripe flavors, acidity somewhat disjointed on pop-and-pour, but decanting calmed everything down and brought them amicably together. Almost every big wine, especially a massive Napa cab, will improve with decanting. I always take a sip or two on pop-and-pour because I know this is how many will experience the wine. Every once and a while things are a go from the get-go. But that is rare and not the case with this wine.
Hesperian specializes in small lots of 100% cabernet sauvignon wines. They use a mix of three vineyards for this effort—56% Harry's Vineyard, 25% Spring Mountain, and 19% Rutherford. This is not an estate wine. Hesperian is a négotiant enterprise—a winery that buys grapes rather than growing them. Medium-full body. Significant oak frames the effort, the product of 20 months in French oak, 50% new. 14.5% ABV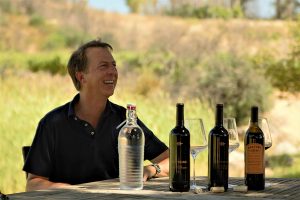 Owner and maker Philippe Langner was born in El Salvador to a German father and French mother, then grew up in Zaire (now called the Democratic Republic of the Congo). He earned dual masters degrees in agronomy and agricultural economics at UC Davis.
"Hesperian" comes from Greek mythology. Hesperides were nymphs who tended the queen-god Hera's westernmost garden that produced golden apples, including the apple which Eris, the goddess of discord, presented as a wedding gift. That apple became the origin of the 10-year Trojan War. Today, "Hesperian" means anyone living in the West. It also references Venus, the western evening star. This likely is more information than you signed up for when it came to explaining the winery's name.
Langner has another take on Hesperian. He told the Napa Valley Register in December 2019: "Hesperian is not a place, it's an idea. It's about crafting something beautiful, complex and individual. Over time my ideas about winemaking have changed. Whereas I once looked to power and intensity, I now look for sensitivity, precision and delicacy as a way to best express our vineyards' particular personalities."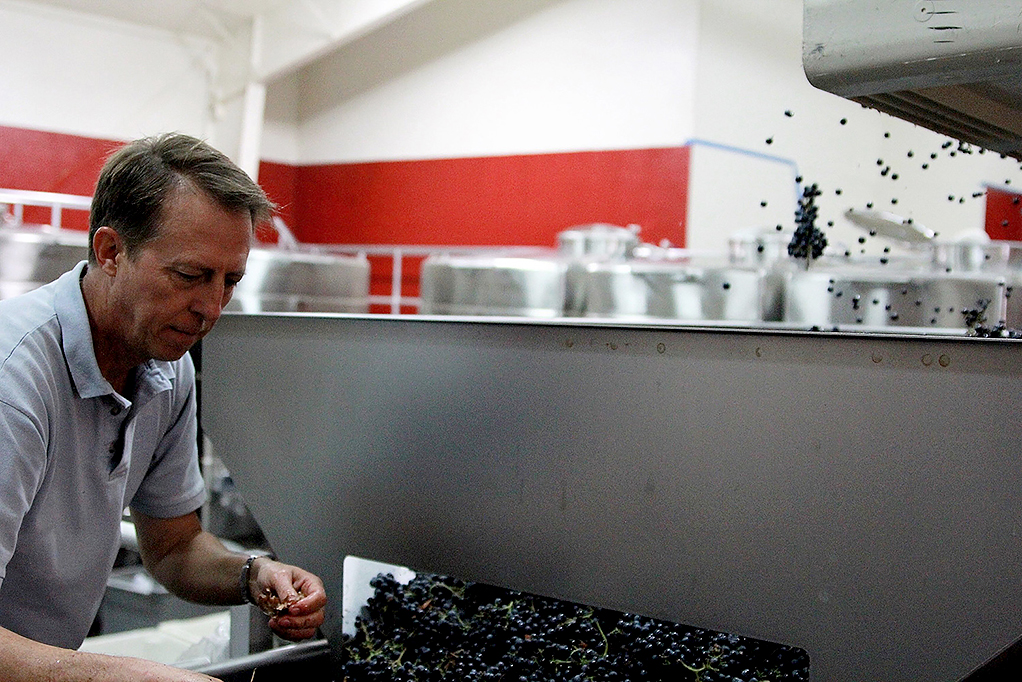 That is now, but this was made four years earlier. It comes from Langer's focus on power and intensity. Some of his change in approach today may be influenced by the loss of his home in the 2017 Napa fires. He told the Valley Register: "I lost nearly everything…. I even lost my winemaking notes that I had kept on every wine I'd ever tasted—poof, gone." In any event, this expresses Napa cab power capabilities. It will be interesting to taste future Hesperian efforts.
Hesperian Cabernet Sauvignon, Napa Valley 2015 over-delivers with complex dark fruits and big flavors. Plenty of big Napa cab here with all the bells and whistles—jammy dark fruits, oak. Although this is super premium wine—costs ranges, if you find it, climb into three figures—you could pay even more for a similar wine. Hesperian consistently delivers, so look for Hesperian rather than this specific wine. Pair with rich beef cuts; rib roast; flank steak and other marinated lean beef; grilled sirloin; lamb; wild game—venison; poultry in rich sauces; mature hard cheeses. $70-120+
Link to the wine maker, but the site does not include information about this wine