Medium gold color; green apple, peach, mango on the nose; tangerine, green apple, pineapple, lemon, grapefruit, minerality on the palate.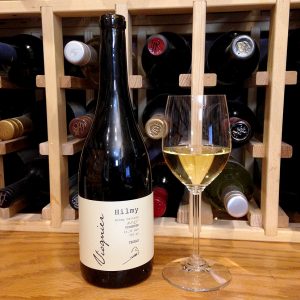 Dry; classic blend of juice fermented in stainless steel, then 43% aged in new French oak and blended with remaining juice aged in stainless. That keeps the sharpness of fruit, but mellows it out some. All this is Texas High Plains AVA fruit, with the cellars in the Texas Hill Country AVA, a common situation in Texas wine. Some 85% of juice in pure Texas wines come from the High Plains, while the Hill Country delivers the tasting rooms and the market. The Texas Hill Country AVA around Fredericksburg and along the Highway 290 wine road is the second-most visited AVA in the United States; only Napa attracts more people.
Good acidity goes with the distinctly tart, crisp flavors, minerality, and rich fruit. There is a welcome touch of expected viognier oiliness, especially on the mid-palate and finish, to temper the viognier vividness. No discernible tannins. Some alcohol punch—14.3% ABV. This is white that gets better with time in a glass; consider decanting—I did not—but I would next time. The wine improved each pour and swirl.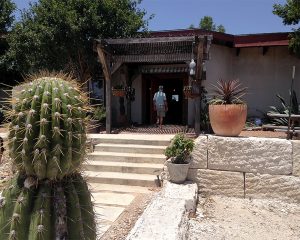 As with most Texas wines, do not expect to grab a bottle at your local supermarket. If you can't come to the winery–tasting room, you can obtain via the internet in thirty-something states and through the Hilmy wine club—"The Flock." It is worth a try as this will reveal new dimensions of viognier. This is not your wine if you believe buttery, oaky chardonnays are larruping good. If you fancy New Zealand sauvignon blanc—or Northern Rhône pure viognier plays. You usually encounter Old World viognier as a blending grape, particularly with syrah, roussanne, marsanne, or grenache blanc. No doubt Texans will eventually join the blend bandwagon, especially with roussanne, another Rhône grape building a Lone Star following. This bottle, however, is the pure stuff. Vavavoom viognier.
The Hilmy story begins with Eric Hilmy—a first generation American—in 2008 at a site near Fredericksburg. Eric started with 3,000 sangiovese vines—another varietal that has proven to work in Texas—and has expanded ever since. The key to the Texas wine industry has been finding what works in Texas terroir. Cabernet sauvignon does not. But vines that are heat and drought tolerant—viognier certainly qualifies—succeed.
In barely more than a decade, Texas has become the No. 5 wine grape producing state in the U.S., and with Texas money, pride, and vast acres of land, don't expect any cowboys to suggest turning the herd and slowing the stampede any time soon. The Hilmy website tells its story in words and three charming videos. We can dip into more detail with the next Hilmy tasting notes.
Hilmy Cellars Viognier, Texas 2015 is tart, flinty, bushel of green apples on the initial attack, followed by citrus and other sharp fruits. Then it gets more complex and fascinating. Hilmy's viognier is further proof viognier found a home on the Texas High Plains, producing a sharper, more distinct wine than its kinfolk vines in the Northern Rhône. As a 100% viognier play, this may best be enjoyed sipped solo or with minimal crackers and/or charcuterie. Its memorable fruits demand to be noticed for their angular, distinct, and captivating promenade on your palate. It can pair with foods flavored with almonds; stewed fruits; seafood and shellfish; vegetable and salad courses; grilled chicken. $28
Hilmy website with entertaining video about his Beatles inspired winemaking philosophy and more, visit and watch