Pale gold color; wildflowers-freesia on the nose; honeydew melon, passion fruit, pear, white peach, cantaloupe on the palate.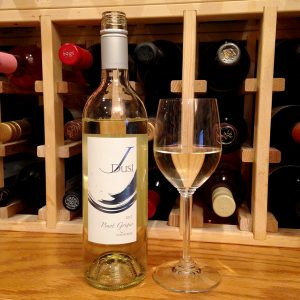 Dry; crisp; restrained acidity, but enough to work with food. Refreshing. Demonstrates again that Paso Robles can produce quality wines; 12.5% ABV.
From the J Dusi—Janell Dusi— website: "The story of the Dusi Vineyard began in the early 1920s, when Sylvester and Caterina Dusi emigrated from Northern Italy and settled in Paso Robles. The Dusi Vineyard introduced some of the first Zinfandels to California's Central Coast; vineyards were rare in Old California in the early 1900's.  Sylvester and Caterina were highly enterprising, and working together with their three sons – Guido, Dante and Benito, eventually bought an additional property on the west side of Highway 101 in 1945 and planted Zinfandel.  Zinfandel was the Italian varietal of choice at the time, and remains the vineyard's mainstay varietal today.
"The intense flavor profiles of the 'Dusi Fruit' are characteristic of the land's unique micro climate and the family's old-world, handcrafted grape growing techniques. This 100-acre estate is located just south of Paso Robles.  A region that features the greatest day-to-night temperature variation of any appellation in California, providing ideal conditions for vibrantly flavored yet exceptionally balanced wines. The vineyard has been sought after by many fine wineries such as:  Turley, Four Vines, Cypher, Tobin James, and Grey Wolf. These local wineries have been purchasing the fruit for many years, creating their own versions of Dante Dusi Vineyard designated Zinfandels.
"Three generations after Janell Dusi's great-grandparents first planted the land to Zinfandel; she is continuing the legacy of one of the area's most well-loved vineyards, and taking ten percent of the production off the Dante Dusi Vineyard to create J Dusi Wines."
J Dusi Pinot Grigio, Paso Robles 2017 is light, fruity, refreshing with whisper of sweetness. This pinot grigio is not a wow wine, but is a fun simple sipper. Pair with white, light meats; seafood; food with fruit elements; seafood tostade; creole shrimip with garlic and lemon; risotto with buttery shrimp; cucumber-grapefruit crab salad. $12-16