Deep gold color; apple, browned butter, vanilla on the nose; baked apple, white peach, nectarine, butter, honey, almond, lemon on the palate.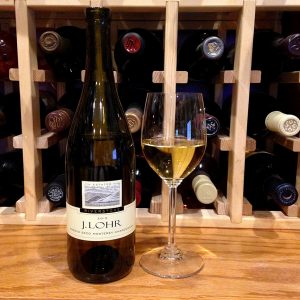 Dry to off-dry—rich fruits make it hard to tell. Classic California chardonnay with generous buttery elements from malolactic fermentation, oak and vanilla from time in barrel. Light-medium body; refreshing; creamy in the mouth with intriguing little bite of lemon/acidity, especially in mid-palate; balanced butter-acidity-oak; 13.5% ABV.
This is the style that put California chardonnay on the map in the 80s and 90s, although this is done with admirable restraint on the malo and the oak, creating a very enjoyable wine that will pair well with range of food. It does not bring cutting acidity to the glass, which limits it to some extent, but also makes it a hit with other foods. No wine or wine style works with everything—I know some riesling fans and sauv blanc fans and even pinot noir fans will protest. OK, whatever. This is very good at what it is, and that is very popular style of chardonnay, and at a very comfortable price point. Nice achievement. Kristen Barnhisel is the white wine winemaker at J. Lohr.
The vines for J. Lohr's Riverstone vineyard in the Arroyo Seco region on Monterey are primarily grown on Elder loam soils underlain by riverstones deposited over thousands of years by the Arroyo Seco River. The stones limit soil depth to one-to-four feet; mature vines find their way to the stones. The combo of sandy loam and cobblestone soil keeps the vines' vegetative growth and fruit in balance, according the the J. Lohr website. The cool climate and winds of the Salinas Valley extend the growing season, helping with acidity and emphasizing the varietal character of chardonnay.
J. Lohr started as Jerry Lohr's vision of a Paso Robles play (south of Monterey County), and Paso Robles remains a core element of J. Lohr, but not all. J. Lohr Vineyards & Wines includes more than 2,300 acres in Paso Robles dedicated to cab, merlot, syrah, petite sirah and other red varieties, more than 1,300 acres of cool-climate estate vineyards in the Arroyo Seco and Santa Lucia Highlands regions of Monterey County with an emphasis on chardonnay, riesling, valdiguié, and pinot noir, and 33 acres in Napa Valley, highlighting cab and sauv blanc.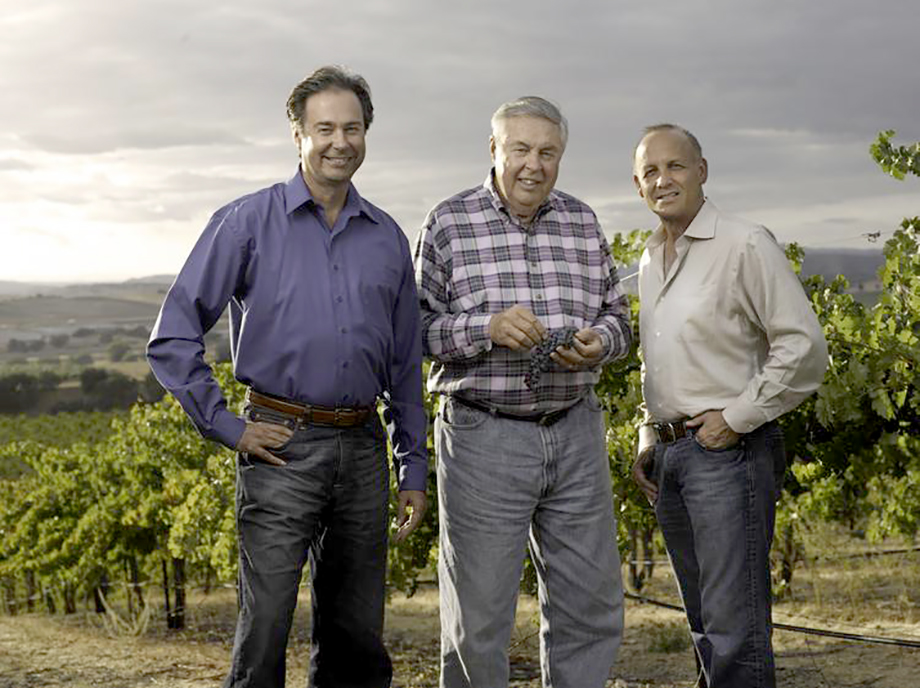 Jerry Lohr is still around, but the second Lohr generation leads the effort today. Chairman Steve Lohr is responsible for the overall management and strategic planning of J. Lohr Vineyards & Wines. Cynthia Lohr spearheads corporate and product visibility as vice president of marketing, and Lawrence Lohr advocates for wine appreciation as director of wine education. Jeff Meier, with J. Lohr for more than three decades, is the director of winemaking.
Lohr Riverstone Chardonnay, Arroyo Seco 2015 is round, opulent, excellent value-for-price wine, especially if you enjoy well-done butter and oak in your chard. Pair with herb-roasted chicken; seafood such as halibut, mahi mahi, and many others; crabcakes; vegetables such as corn, butternut squash, sweet potatoes; cream-enhanced soups, sauces, pasta. $13-15