Medium copper color; red fruits, pomegranate; red fruits, raspberry, watermelon, blood orange on the palate.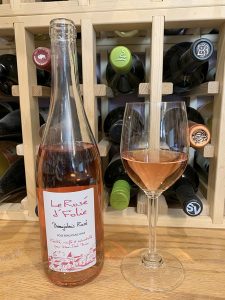 Dry; light, fruity, crisp; good acidity. Refreshing. Made with gamay noir grapes in a pure style that showcases gamay's refinement. Wine reflects the outstanding terroir of the area known as the "Terres Dorées"—Region of Golden Stones—and a famed focus on minimal intervention, allowing the grapes and wine to be themselves.
This is made by a legendary winemaker. Jean-Paul Brun's estate is located in Charnay, a village in the Southern Beaujolais, north of Lyon. Brun's farms about 150 acres. He champions "old style" Beaujolais, insisting on indigenous yeasts, restrained alcohol (this is 12.5% ABV). He, therefore, does not chaptalize to increase the sugar and the alcohol. He emphasizes fruit and not power or weight. This rosé perfectly fits his vision.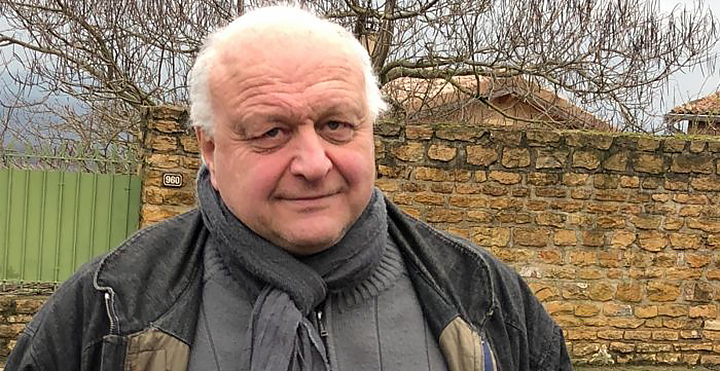 The grapes for this wine were organically farmed on clay-limestone soil in the hills around Charnay. Bunches are hand-harvested and directly pressed with no maceration. The wine goes through malolactic fermentation, then ages in tank. It is bottled with a light, non-sterile filtration and minimal sulfur. Brun does not filter his wines, feeling that could mute his delicate gamay flavors.
Brun's approach has charmed critics. Robert Parker has sung his praises—and rated him as a four-star producer. The only other Beaujolais producers with four stars are in exalted crus properties. The approach has paid off handsomely as Brun has been able to consistently expand his estate—he started off less than 10 acres and now farms more than 150 acres and produces more than 20 different wines.
Jean-Paul Brun Domaine des Terres Dorées Beaujolais "Le Rosé d'Folie" 2021 is a delicate, delicious, classic Beaujolais from a multi-honored maker. No tricks or gimmicks, Jean-Paul Brun has quality terroir and allows his gamay grapes to shine. Gamay and rosé are very food friendly, so you can dare to pair with a very wide range of lighter fare, from fish to pork and poultry. Excellent with salads and vegetarian dishes. Cheese—soft and semi-soft; comté, brie, baby swiss, camembert, feta. Will perform well as an aperitif. $19
Jean-Paul Brun does not have a website.