Deep ruby color; plum, blueberry, cherry on the nose; plum, cherry, blueberry, cranberry, raspberry on the palate.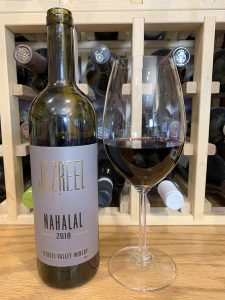 Dry; rich, powerful wine, as you would expect from a blend of 60% shiraz, 40% carignan. The two varieties age 14 months independently before blending. The winery touts this as an "Israeli-style" wine. I am unsure exactly what that means, but no reason they can't make the claim. And this is tasty, very big, shiraz-led wine. Shiraz is never bashful, so if you are not into aggressive red, this is not for you. On the other hand, if Aussie shiraz and other substantial reds, you will enjoy this. Mevushal, approved for Passover; 14.1% ABV.
The JezreelValley Winery was established in 2012 in the northern part of the Jezreel Valley in Hanaton, west of the Sea of Galilee, east of Haifa, and seven-plus miles north of Nazareth. Hanaton is a kibbutz, a collective community based on agriculture. The Jezreel Valley is noted for its beautiful landscapes, natural springs, and tourist sites.
The winery specializes in syrah, carignan, and crimson red grapes. They also grow viognier and gewurztraminer, all grapes the winery believes do well in the Israel terroir. While grape growing and wine making in the region go back to Roman times, the modern history of Israeli wine production dates from the late 19th century and the Rothschild family, thus the emphasis on Bordeaux and French varietals.
Jezreel Valley Winery Nahalal, Galilee, Israel 2018 is dense, powerful, major red wine. Not for the faint of palate, but will be appreciated by those who lust for lusty shiraz-lead wine. If you enjoy Aussie shiraz, you certainly can appreciate this Israeli rendition of the varietal. Pair with roast beef and other beef dishes; lamb; barbecue beef or pork. $24-27
Jezreel Valley Winery website, but it only offers purchase options, not winery info or photos