Deep purple color; blackberry, dark cherry, blueberry on the nose; black cherry, blueberry, plum, chocolate, white pepper on the palate.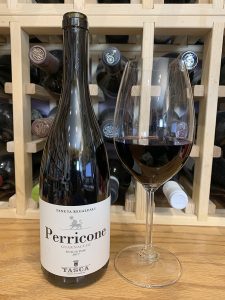 Dry; significant and somewhat rough tannin—a feature of the perricone grape—so decanting is strongly recommended. Effective balancing acidity. This is versatile wine that has the backbone to pair with assertive food, especially rich red meats, sausages, sharp cheese. Bold flavors, full body; 13% ABV, which is subdued alcohol for a perricone wine.
This is 100% perricone. Once widely grown in Sicily, the perricone grape (also known as pignatello) almost became extinct thanks to phylloxera. It lingered as a minor blending partner for Nero d'Avola, primarily to add tannins which Nero d'Avola lacks while perricone has assertive tannin. Today, in part led by producers such Tasca d'Almerita, the grape has gotten more attention as a varietal.
The Tasca d'Almerita estate in center of western Sicily was founded in 1830. They have cultivated the grape at their estate since 1954. This bottling comes from the Tasca d'Almerita family's Ciminnita vineyard from vines planted in 2011, using cuttings from their historic San Lucio parcel. The wine ferments in stainless steel, then finishes in second and third use French barriques for a year. Laura Orsi was the consulting winemaker and Carlo Ferrini the winemaker.

Tasca d'Almerita's story began when brothers Lucio and Carmelo Mastrogiovanni Tasca purchased almost 3,000 acres in the Regaleali region of Sicily. The website notes, "introducing the most modern agricultural technology available into the Sicilian backcountry." Ten years later, the dowry of Lucio's wife included Villa Camastra, today's Villa Tasca, the Palermo residence of the Tasca d'Almerita family today. In 1882, Richard Wagner finished the 3rd Act of Parsifal while a guest at Villa Tasca.
In 1950, the redistribution of land during Italian agricultural reform reduced the Regaleali estate to 1,240 acres. Four years later, the current vineyards were planted. In 2018, Tasca d'Almerita is the first wine estate to be certified Viva—SOStain. There is more complete timeline and history on the website.
Tasca d'Almerita Tenuta Regaleali Guarnaccio Perricone, Sicila DOC 2017 is bold, tasty, loads of intense dark fruit flavors. Assertive tannins, but nicely approachable, especially after decanting. Grape you probably have not tasted before, but snag a bottle if you find it. Pair with grilled steaks; red meat cuts in general; rack of lamb; panko-breaded lamb chops; sausage; pasta dishes with tomato sauces; pizza; rumaki; aged sharp cheeses. $15-22