Deep ruby color; blackberry, red cherry, spice on the floral nose; raspberry, sour cherry, red currant, plum, light spice on the palate.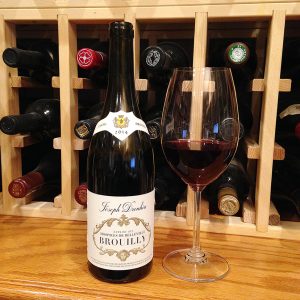 Dry; medium-full body; fruity, soft, low tannin, good acidity. Made with gamay grapes from Beaujolais region; Brouilly is the premier cru among the 10 Beaujolais crus (it also is the largest region) and its wines are much richer and Burgundian that the better-known Beaujolais Nouveau, which are light and fresh and intended to be drunk very young. This effort is much more serious wine.
Beaujolais is region immediately south of Burgundy; gamay is the dominant grape. The Brouilly viticultural area covers six communes (smallest French territorial division) surrounding Mont Brouilly, an extinct volcano. The hill got its name from Roman lieutenant Brulius who planted vines there more than 2,000 years ago. Grapes come from parcels owned by the Hospices de Belleville (a charity hospital). Belleville is a town on the Rhône River, north of Lyon. Veronique Drouhin is lead winemaker of Joseph Drouhin today. Her grandfather was an administrator of hospitals in eastern France, thus connection to the 35 hospice acres from which this wine comes.
The Drouhin family has operated Maison Joseph Drouhin in Beaune since 1880. Beaune is the major town of southern Burgunday and gives its name to the Côte de Beaune section of the Côte d'Or. It traces its beginnings to a military camp of Julius Caesar. The fourth Drouhin generation runs the négociant-domaine operation today. They own vineyards throughout Burgundy as well as the Willamette Valley in Oregon in addition to obtaining grapes from other growers, such as those who provided grapes for this effort. The house created one of the white wines that competed in the Judgement of Paris in 1973, coming in fifth among 10 wines. Take-away from this factoid is they were one of the wines picked to be in the competition. There were no slackers in the glasses that day.
The house is committed to biological and biodynamic approach to wine, showing respect for the soil, the vine, and the environment. They were among the first to adopt "culture raisonnée" (elimination of pesticides and chemicals) in the late 1980s, long before such an approach was considered a marketing advantage. Drouhin did it because they thought it was the right thing to do. Drouhin was among the first to build a laboratory of enology; it was started by Laurence Jobard, the first female enologist in Burgundy. Women continue to play essential roles: Veronique Drouhin, one of the fourth generation, is the lead winemaker at Drouhin.
The family's charter of excellence states: "The Burgundian terroir expresses itself through the vine: our role is to translate and reveal its most subtle messages." This effort reflects that mission statement, even when the grapes are gamay and come from just south of Burgundy.
Joseph Drouhin Brouilly Domaine des Hospices de Belleville 2014 is solid wine made in a somewhat testing year. Beaujolais wines involve semi-carbonic maceration, where the first stage of fermentation starts inside the gamay grape before crush. The technique produces unique wines, and this is one. Well worth a try. $18-24
Joseph Drouhin website
Drouhin U.S. importer website with good videos about Drouhin