Pale gold color; white fruits and flowers on the nose; yellow apple, lemon, white peach-pear on the palate.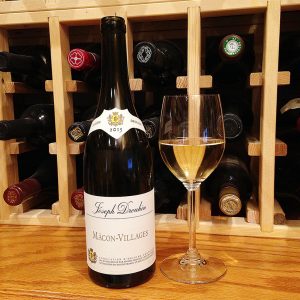 Light-medium body; direct, ripe fruit flavors from clay-chalk vineyard in Burgundy, close to Pouilly-Fuissé. Pure chardonnay play, aged six-to-eight months in stainless steel. Dry, with OK acidity—more citrus, less minerality, less sharp acidity.
This effort fits profile of a chardonnay from Burgundy in a warm vintage. Joseph Drouhin is highly respected négociant (and domaine) that seems to have gotten the most out of what late August heat and then rain delivered for Burgundian growers in 2015.
With its friendly flavors, citrus notes, hint of honey on the finish, this effort should do well with food, which is the general appraisal of Burgundy's 2015 whites. The vintage has been called a classic for reds, but warm temperatures and great ripeness generally was not as kind to white grapes; "uneven" and "ripe" are adjectives often used in 2015 evaluations. There is no Chablis sharpness in this bottle, but that can be a good thing for those who enjoy a rounder, fruitier, less acidic style. This is easy drinking, nicely rich, delicious.
The Drouhin family has operated Maison Joseph Drouhin in Beaune since 1880. The fourth generation now runs the négociant-domaine operation. They own vineyards throughout Burgundy as well as the Willamette Valley in Oregon in addition to obtaining grapes from other growers. The house created one of the white wines that competed in the Judgement of Paris in 1973, coming in fifth among 10 wines. The take-away from this factoid is they were one of the wines picked to be in the competition. There were no slackers in the glasses that day.
The house is committed to biological and biodynamic approach to wine, showing respect for the soil, the vine, and the environment. They were among the first to adopt "culture raisonnée" (elimination of pesticides and chemicals) in the late 1980s, long before such an approach was considered a marketing advantage. Drouhin did it because they thought it was the right thing to do. Drouhin was among the first to build a laboratory of enology; it was started by Laurence Jobard, the first female enologist in Burgundy. Women continue to play essential roles: Veronique Drouhin, one of the fourth generation, is the lead winemaker at Drouhin.
The family's charter of excellence states: "The Burgundian terroir expresses itself through the vine: our role is to translate and reveal its most subtle messages." This effort reflects that mission statement.
Joseph Drouhin Mâcon-Villages Blanc 2015 is a good job in a testy year for whites in Burgundy. This is tasty, easy drinking, flush with ripe fruits and clean taste; it pleasures the palate. While it may fall a bit short on acidity, that will be a plus to many who are not fans of razors-on-the-tongue whites. Good effort, nice price for this quality from a storied Burgundian maker, well worth finding. $14-15
Drouhin U.S. importer website with good videos about Drouhin