Pale gold color; peach, pineapple, mango on the nose; pineapple, white peach, orange, mango, lemon on the palate.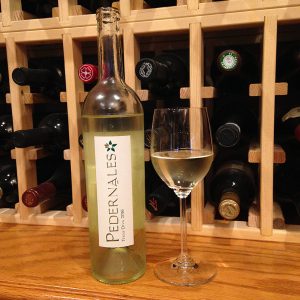 An inventive blend of viognier, muscat, and pinot grigio. Bright and refreshing; creamy mouthfeel; off-dry with fruit sweetness balanced by medium acidity; some tartness—lemon—on the finish, but intriguingly accompanied by a taste of honey. The sweetness sensation—not residual sugar, but fruity sweetness that muscat (in particular) delivers—means this should be very popular with folks transitioning from sweet wines to more serious pours. It could work as dessert (not as a dessert wine paired with chocolate or something, but the dessert itself). In some ways it reminds me of off-dry riesling, although it doesn't push the acidity of Mosel efforts. It does remind you of the German settler roots of the Pedernales River area of Texas.
Pedernales Cellars is a leading producer of handcrafted wines using Texas-sourced grapes. Larry and Jeanine Kuhlken started the Kuhlken Vineyards in the Texas Hill Country in 1995. Over time, the Kuhlken vineyards were producing high quality fruit with bold, intense flavors.
In 2005, Larry and Jeanine's children, David and Julie and their spouses Heather Kuhlken and Fredrik Osterberg, began plans for Pedernales Cellars. They imagined a boutique winery focused on handcrafted, small-lot wines, and made with small-lot wines made from grape varieties grown in the Texas Hill Country.
Today's winery remains a family affair with David Kuhlken the winermaker, Fredrik Osterberg as president, and Julie in charge of design and marketing. Larry and Jeanine continue to oversee the vineyards. Heather is a freelance photographer to who provides photographic art at the winery and tasting room.
Pedernales Cellars draws its name from the Pedernales River; "pedernales" is Spanish for flint. The inspiration came when David found a flint projectile point in the vineyard and Fredrik found a flint ax on the winery site.
Pedernales Cellars Texas Diva White Wine 2016 is delicious and should be pleasing to a large number of wine drinkers, especially those who love moscato and other sweeter wines. At the same time, it is in no way offensive to those who go for more muscular reds or sharper whites. Pedernales continues to deliver wines every Texan should be proud to sip. And the make the wines with 100% Texas grapes. God bless Texas. $20