Medium salmon-pink color (padparadscha sapphire); red berries, tropical fruit on the nose; watermelon, strawberry, melon, orange zest on the palate.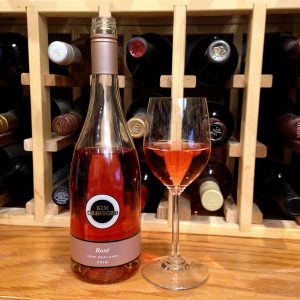 Dry; soft, lush and delicious. Simple, fruit-forward with some weight in the mouth. Excellent acidity (3.26 pH) delivers balance to the fruitiness and some tartness by the mid-palate. No tannins or oak. Blend of 93% merlot, 3% malbec, 3% syrah, 1% cabernet sauvignon; 13% ABV. This is another wine where the fruitiness tricks our palate into thinking sweet, but at 3.8 g/L residual sugar, this is solidly in the dry range—you don't get into the off-dry range until you hit 17 g/L of RS.
Earlier iterations of Kim Crawford Rosé were labeled Hawke's Bay, which is the northern island. Kim Crawford's fame came from Marlborough, which is located on the south island. While Lim Crawford website doesn't explain, my guess the assortment of fruits came from both islands, thus the "New Zealand" identification. The rosé also used to be called "Pansy" for its "vivacious and vibrant character." Kim Crawford today is a major world brand, and likely single blocks or vineyards can no longer meet worldwide demand. No matter, this is tasty, affordable, available, and fun quaffer.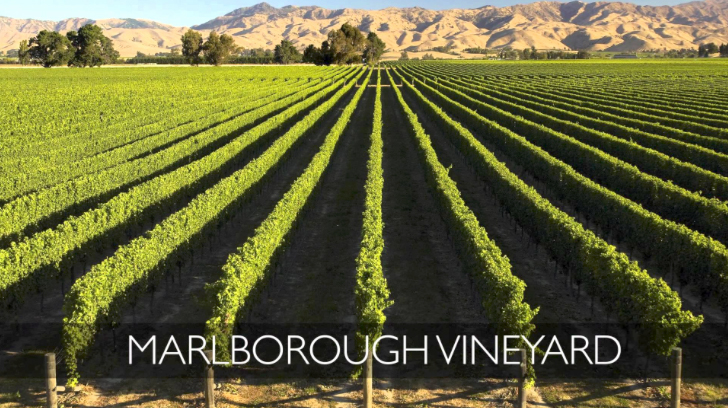 Now a Constellation Brands product, the real person Kim Crawford was a pioneer in New Zealand winemaking. First known for his superb sauvignon blanc—six years after the founding of the winery in 1996 Crawford's sauv blanc made Wine Spectator's 100 best wines in the world list—KC also was innovative in bottling, turning to screw caps early because he believed it helped preserve and emphasize the fruit flavors. Anthony Walkenhorst is the winemaker today after being mentored by Crawford. There is interesting interview with him on the Kim Crawford website, see link below.
Kim Crawford Rosé New Zealand 2018 is crisp, clean, good-red-fruit effort led by watermelon and strawberry. Heavier in the mouth than typical rosé, which is feature with this fruit-forward effort, not a flaw. Excellent acidity serves it well as food wine, also balances the vivid fruit. Works very well as an aperitif; pair with shellfish; planked salmon; seared tuna; sushi; poultry; quiche; light salads. Serve cold in summer and sip on patio, porch, picnic, pool side. $16-18