Light chiffon pink color; apple, citrus, bread-yeast, rose on the nose; apple, strawberry, slight riff of raspberry on the palate.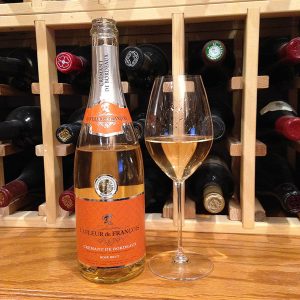 Dry (brut); interesting gold with hint of rosé pink-salmon color, similar in intensity to a Provence; nicely light, lively, and persistent bubbles. Blend of 90% merlot and 10% cabernet franc. Light, round, nice fruit presentation. Punches above its weight, underscoring the value in French crémant wines—sparkling wine made using the traditional method/méthode champenoise, but not in the Champagne region.
Crémant de Bordeaux is the regional appellation for white and rosé sparkling wines made in the Bordeaux wine region of southwestern France. While production is declining because of the greater popularity of Bordeaux reds, the region's sparkling wines are consistent values.
Bordeaux has produced sparkling wines for more than a century, but Crémant de Bordeaux did not become an official appellation until 1990. The style remains somewhat undefined, unlike the other French crémant appellations, Crémant de Loire and Crémant d'Alsace. The Bordeaux appellation is one of the largest in France, covering more than 500 parishes, but only 250 acres are dedicated to sparkling wine production.
The appellation has some interesting rules for sparkling: there is an enforced period of time the wine must rest on the lees, and the wine cannot be disgorged for at least nine months after first bottling. The wines cannot be sold until one year after disgorgement. The result are sparkling wines with layers of flavors and complexity, and this bottle is an example.
La Fleur de François Crémant de Bordeaux Rosé Brut NV is nicely complex with excellent fruit and wondrously fine and persistent bubbles (a telling characteristic of Crémant de Bordeaux wines). This will work great as an aperitif, will go well with deserts that are not too sweet after a light meal, also nice with caviar, shellfish. Excellent value-for-price play. $16-17
The winery does not have a website or photos on the web.