Dark ruby color; dark fruit, boysenberry, vanilla, ginger spice on the nose; plum, black cherry, raspberry, blackberry on the palate.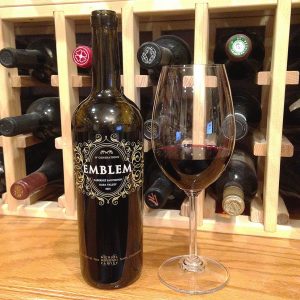 Dry; full body; significant tannin (benefits from decanting); nicely done oak—18 months in French barrels. Balanced, a smooth and very drinkable big Napa cab with subtle layers of flavor where soft notes appear in unexpected places as it evolves in the glass and in the mouth. While it is bit brambly and brutish in the first pop-and-pour sip, it rather quickly comes around to round and delicious. Nice metamorphosis that does not take much effort. Decant, decant, decant.
Blend of 79% cabernet sauvignon, 8.5% petit verdot, 7% petite sirah, 4.5 syrah, 1% zinfandel (although there are conflicting reports even on the winery's tech data sheet, which claims very small amount merlot is in it, but does not note in the percentage breakdown). Bottom line: this is a crowd-pleasing big Napa cab that targets the middle-ground between prestige and affordability, a quality pour folks without trust funds can purchase.
Michael Mondavi Family Estate makes various levels of wine. Isabel Mondavi Wines ($25-40) is the entry-level brand. Emblem ($35-$60) is the next tier. Animo pushes to next level ($70+). Top-of-the-line efforts are labeled "M by Michael Mondavi" ($200+).
There are eight wines under the Emblem mark: Emblem Napa Valley Cabernet Sauvignon (this wine); Emblem Oso Vineyard Cabernet Sauvignon; Emblem Carneros Chardonnay; Emblem Oso Vineyard Sauvignon Musqué; Emblem Oso Vineyard Fumé Blanc; Emblem Oso Vineyard Petite Sirah; Emblem Oso Vineyard Petit Verdot; Emblem Oso Vineyard Passito. The two cabs are the flagships of the Emblem brand, with the multiple-sourced blend (the wine reviewed here) as the approachable, more affordable effort. The single-source Oso Vineyard ($60) is intended for longer life and is more structured.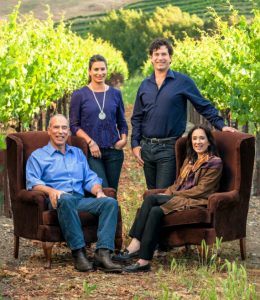 Mondavi is Napa vino royalty. Michael Mondavi and his wife, Isabel, and son Rob Jr. and daughter Dina own and operate Michael Mondavi Family Estate. Following family tradition, they adhere to sustainable and organic standards because they believe best grapes and best wines come from healthy vineyards. Michael reports when he was 11 years old, his grandfather Cesare Mondavi impressed upon him it is was a solemn family duty to leave the soil in his vineyard in a healthier condition than when he received it from his father and uncle. He dutifully works at that task.
Today, winemaking duties are shared between Michael's son, Rob Mondavi Jr. and Tony Coltrin. Together, "they aim to make wines with integrity, balance and a sense of place" according to the winery website. They also believe the best wines in the world come from family-owned and managed producers. Hard to argue with Mondavi success.
Michael Mondavi Family Emblem Cabernet Sauvignon Napa Valley 2014 is a big Napa cab that delivers the almost-over-the-top flavors you seek from America's premier cabernet sauvignon region. This vintage is a bit smoother and softer than my notes and memory say about the 2013 vintage, with less prominent oak, but these are subtle nuances. Pair with thick steak, braised short ribs, zucchini gratin with tomato confit, bison slider, goat cheese, blue cheese with fig preserves. $30-38
Michael Mondavi Family website