Labor Day cometh. We again face fading days of summer. We again pass through the portal between baseball, beaches, and backyard barbecues into the autumnal realm of football, falling leaves, and harvest feasts.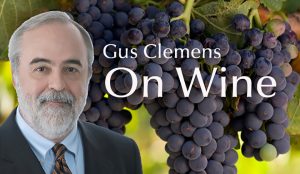 Schools welcome kids back, grandparents bid kids goodbye, vacation adventures fade into mellow memories, farmers stop praying for rain to nourish their crops and start praying for dry so they can bring those crops in. Labor Day is a Janus-faced holiday of farewell and recognition that to every thing there is a season and a time for every purpose under heaven.
Now is the season to clear out the summer wines in your wine rack and take advantage of wine store bargains. Stores know sands drain from the summer-selling hourglass and most white, light delights do not winter well. The wines of summer, like the flowers of the field, grace a season and are gone. Pull corks, twist Stelvins, make room for the big reds of fall and winter. Wine's synchronicity with the natural flow of nature is one of its exquisite joys.
Tasting notes:
• Casillero del Diablo Reserva Rosé 2016: Acidity and sour cherry notes mean this best pairs with food. $10 Link to review
• Sterling Vintner's Collection Rosé 2016: Watermelon and strawberries; will play well with shellfish, grilled chicken, charcuterie. $11 Link to review
• F.E. Trimbach Pinot Blanc Alsace 2014: Perfect as an aperitif; classic Alsace blend of pinot blanc and pinot auxerrois. $14 Link to review
• Joseph Drouhin Mâcon-Villages Blanc 2015: Flush with ripe fruits, clean tastes, pleasures the palate; from storied Burgundian maker. $14 Link to review
• Whitehaven Marlborough Sauvignon Blanc 2016: Spot-on Marlborough sauv blanc; Gallo imports into U.S., so should be easy to find. $16 Link to review
• Robert Mondavi Winery Napa Valley Fumé Blanc 2015: Iconic wine (Mondavi's made-up name for sauvignon blanc) from iconic winemaker; will pair with food or work as aperitif; delicious. $17 Link to review
• Château Tour Léognan Pessac-Léognan 2014: Crisp sharpness and acidity you want from a Bordeaux blanc—sauvignon blanc, sémillon blend. $19 Link to review
• Salvestrin LeBlanc Crystal Springs Vineyard St. Helena Sauvignon Blanc 2012: Rounder, smoother than New Zealand sauv blanc; resembles a Sancerre in spite of oak influence. Nice change of pace. $27 Link to review
Last round: After my fourth glass of wine I do not slur my words. I talk in cursive.