Pale straw color; apple, pear, lemon-lime nose; apricot, pear, yellow apple, peach on the palate.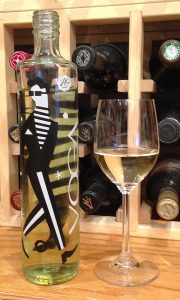 Off-dry; nice acidity (3.30 pH); very smooth easy drinker. The wine is mainstream pinot grigio, but tilts to softer and more lush rather than  crisp and dry.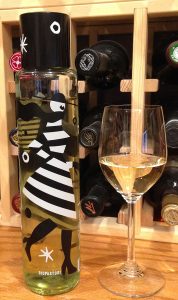 VOGA Italia (part of Enovation Brands) also is known for vodka and for their distinctive bottle, re-sealable caps, and push-the-cool marketing. This bottle maintains that trendy tradition with stylish wrap-around label art screened on the bottle, the distinctive VOGA Italia bottle itself, and the twist-on plastic hat/cap (but beneath that is a cork). Photos show bottle from both sides.
The maker, Enovation brands, prides itself on being: "Boldly innovative, elegantly unapologetic and tastefully confident, VOGA Italia is a contemporary wine concept for the modern consumer. The chic cylinders, curvaceous bottles and innovative closures command attention, but it's the award winning wines inside that are the real stand-outs. Rich in flavor and full of character, the VOGA collection is styled to deliver the taste profiles most desired by todays wine drinkers. Red or white, still or sparkling, dry or sweet, each wine is a triumphant expression of the famed terroir from which it hails. The award winning wines of VOGA Italia are served in the trendiest bars, clubs, lounges and restaurants in more than 70 countries worldwide, making VOGA Italia how modern wine consumers everywhere Drink IN Style." (Drink IN Style is their tagline).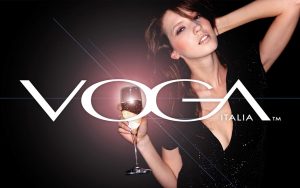 Brothers Giovanni and Alberto Pecora founded VOGA in 2006 with a vision of adding hip style and sophistication as well as an affordable luxurious experience. In VOGA's words: "Sophisticated, sleek and modern, VOGA Italia is the expression of Italian style and craftsmanship in wine. VOGA Italia has been recognized as the fashion wine and loved by celebrities across the globe…"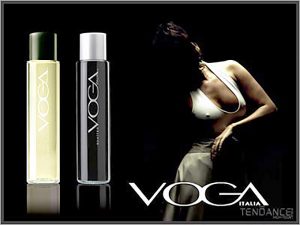 VOGA Italia Pinot Grigio Delle Venezia 2015 is made and priced for entry-level, image-conscious consumer, and clearly succeeds there with its roundness and generous fruits and unique packaging. I think its best use is as an aperitif or solo sipper with friends at a party because there are other pinot grigio/sauv blanc pours that would go better with the usual platters of fish, shellfish, chicken, creamy pasta—although this would work with all that, too.
This is more a pour a group could have fun with warming up for a party or as the libation for a stylish party with cheese and finger foods amid gossip and flirtations. In such a gathering, this will work very nicely and get no complaints from wine newbies. Terrific price. $9