Medium gold color; white peach, brioche, apricot on the nose; peach, Meyer lemon, apple, tangerine, tropical fruit, some oak and butterscotch on the palate.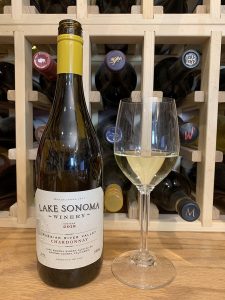 Dry; rich and creamy with good acidity (3.57 pH). Medium-plus body; 100% Russian River Valley chardonnay with its signature richness and restraint. Fermented in French oak, 50% new and 50% neutral, then aged for 19 months, so there is oak presence but it is not dominant. There may have been some malolactic fermentation—the winery's tasting notes do not mention it—but buttery is not a main feature. The good acidity and lemon notes present late, giving a tart lift to the finish, which is the principal, and pleasing, takeaway from this effort. 14% ABV
Lake Sonoma Winery sources its grapes from Sonoma winegrowers. The website notes: "exclusively from esteemed vineyards of Sonoma County, a wine-growing region home to some of the most diverse terroirs and micro-climates in the world. This diversity is best expressed through Sonoma's sub-appellations, many of which are renowned for specific varietals that thrive in each." The Russian River Valley in Sonoma has a global reputation for its pinot noir and chardonnay. This does nothing to diminish that and comes at a nicely affordable price.
Lake Sonoma Winery is a brand of the Stewart Family, a pioneering Canadian winemaking family that first planted vines at their Okanagan Valley (Canadian Pacific northwest) estate in 1961. Other brands include Quails' Gate (Okanagan), Valley of the Moon (Sonoma), and Plume (Sonoma). Prior to that, the winery was owned by F. Korbel & Brothers in an attempt to branch into premium still wines; in 2012 Korbel re-focused on their sparkling portfolio and sold to the Stewarts.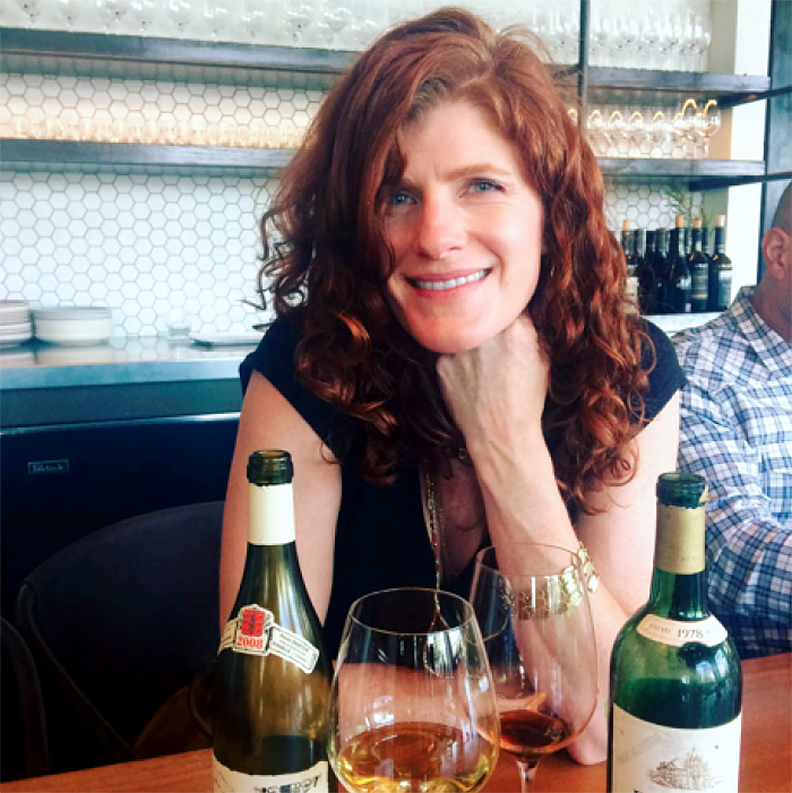 Jaime "JJ" Dowell is the winemaker. She notes that Sonoma is still "farm-driven" and seeks to allow the soil and the grapes to take center stage, not the winemaker. That is how excellent wine is made, even commercial wine such as this effort at its around $20 price point. She particularly makes a point of careful blending of wines from different blocks. She emphasizes a balance of texture and complexity, which can be appreciated in this pour.
Dowell earned her degree in viticulture and enology from UC-Davis and did internships in Napa until she took a life detour to manage and operate her family's art gallery in East Bay. After a decade, she returned to wine part-time as the winemaker for Crooked Vine & Stony Ridge Winery. After three years of splitting time between the art gallery and the winery, she soul-searched, sold the gallery, and focused full-time on wine.
JJ spent time in New Zealand making high-end pinot noir. She then joined Bonny Doon Vineyards, followed by Alpha Omega Winery, then Round Pond Estate. In 2019, the year of this vintage, she became a consulting winemaker for West Coast Wine Partners, which includes making wine for Lake Sonoma Winery and Valley of the Moon Winery.
Lake Sonoma Winery Russian River Valley Chardonnay 2019 is crisp, precise presentation of the Russian River Valley's famed chardonnay fruits. There are some oak elements, but this definitely is not an oaky butter bomb. With its minerality and intriguing tartness, this is built more for food pairing not solo sipping as a cocktail hour chard. The winery found good fruit in a testing year and mercifully let it do the talking. Pair with pork; pasta with creamy sauces; seafood; crab cakes; rich fish; baked/broiled chicken; garden salads; Cobb salad; chicken caesar salad; vegetarian fare. Cheese—mild, semi-soft cheeses; mild blue cheese, gouda. $18-22