Deep ruby color; cherry, plum, leather, scrubland on the nose; cherry, strawberry, plum, raspberry, blood orange, oak, vanilla, red pepper on the palate.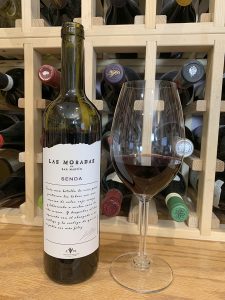 Dry; medium body; medium, dusty tannins and acidity, as you expect from Spanish garnacha. Modest but noticeable oak. Significant rustic elements, again as you can expect from a Spanish garnacha, especially at this price point. Much more a food wine than a tasty sipping wine, but with its tannins and assertive fruit, certainly can work with assertive food fare. 14.5% ABV
Las Moradas de San Martín winery began in 1999 on the Madrid side of the Gredos hills. It recovered ancient garnacha vineyards that had been cultivated since the 12th century near the municipality of San Martín de Valdeiglesias. It may be the largest single contiguous estate of old vine garnacha in the Sierra de Gredos. The grapes for this effort come from vines between 40 and 85 years old.
Las Moradas [The Interior Castle] name comes from the title of Saint Teresa's last book. The website notes its name: "is intended as a nod to literature, as the wine of this area is mentioned by the most important writers of the Spanish Golden Age, and we reflect this on the labels of our bottles."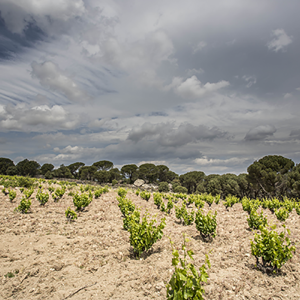 The winery can produce up to 80,000 bottles a year. It is environmentally friendly where all by-products are reused. Lees, grape marc (the solid remains after pressing), and washing water are sent to a distillery. The stems and goat manure from neighboring farms go into compost that then is incorporated into the vineyard as fertilizer.
Grapes from the various plots are fermented in small stainless steel tanks. The winemaking process involves no additives. The wine ages in a temperature and humidity-controlled environment. The barrels are French and Hungarian oak with different capacities ranging from 60 gallons to 132 gallons, 20% of them new. Wines are finished in 383-gallon foudres.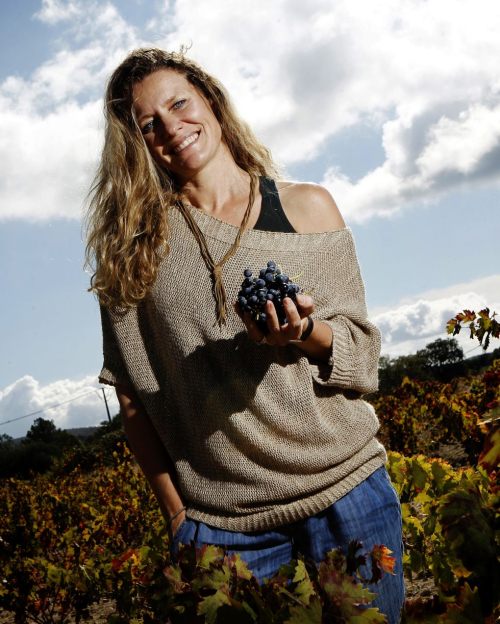 Isabel Galindo is the winemaker. Galindo has spent much of her wine career working with garnacha from this Spanish region and is considered a pioneer in evoking the most from the region. Galindo is a strong advocate for minimalist intervention both in the vineyard and minimum impact on the environment.
Las Moradas de San Martín Senda Garnacha 2016 is smooth, fresh, young, with rustic, savory elements, an interesting interplay of attributes. Presents the assertive, bright-fruit-forward side of grenacha without being obnoxious. Good QPR (quality-price ratio), a common theme in Spanish wines. Pair with beef—New York steak, filet mignon, beef stew; tapas; pasta dishes with red meat and tomato-based sauce; lamb; pork; wild game—venison, boar; poultry with rich sauces; hard, aged cheeses; charcuterie board. $14-16
Las Moradas de San Martín website