Deep purple color; plum, green olive, tobacco, baking spices on the nose; plum, blueberry, blackberry, meat, pepper on the palate.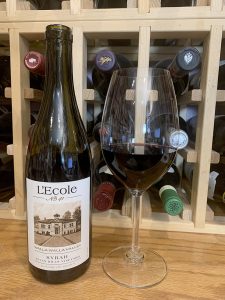 Dry; silky tannins integrated with relaxed acidity (3.84 pH). Complexity from 20% of the fruit fermented whole cluster; remainder gently crushed in 1.5-ton stainless steel fermenters. Punch down by hand, juice moved by gravity. Racked four times in 100% small oak barrels, 40% new, over 18 months. There is oak influence, but it is not officious presence. Grapes come from Seven Hills Vineyard planted in 1981; the vineyard is Certified Sustainable and Certified Salmon Safe. Wine & Spirits Magazine calls Seven Hills Vineyard one of the "Ten Great Vineyards of the World."
L'Ecole white label wines, such as this one, focus on place. Production, therefore, is limited—1,030 cases of this vintage were produced. In contrast, L'Ecole black label "Heritage" wines focus on expressing grape variety and typically have three times the production. This white label effort, 100% syrah grapes from Seven Hills, delivers medium-plus body with ripe fruits that hold up well with the significant alcohol—15% ABV. Juicy, satisfying finish.

Baker and Jean Ferguson founded the winery in 1983 in the Walla Walla Valley, just the third winery in the Valley. It is housed in the historic Frenchtown School, which appears on the label. L'Ecole wines focus on quality from Washington State and the Walla Walla Valley. The Ferguson's daughter, Megan, and her husband, Marty built on the Ferguson's legacy. A third generation, Riley and Rebecca, participate in the winery today.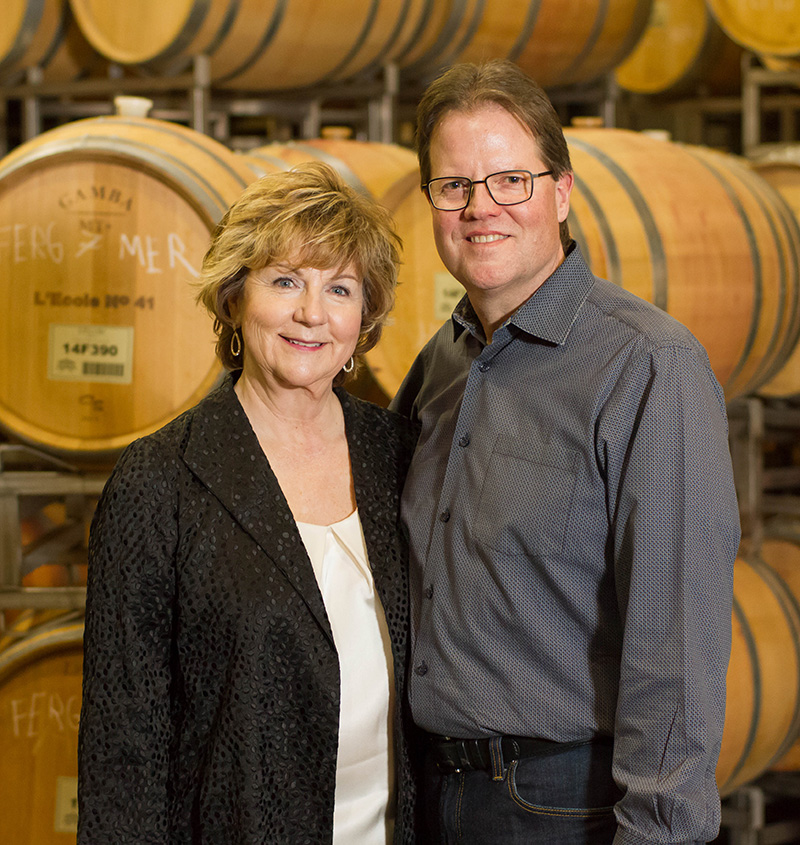 The website notes: "Our focus is to produce ultra-premium, distinctive wines that reflect the unmistakable typicity of Washington State and the unique terroir of our Walla Walla Valley vineyards.  We are engaged in growing and making 100% of our wine.  Each bottle is handcrafted with a commitment to quality in the vineyards and the winery.  More than three decades of winemaking experience, ongoing investments in our Walla Walla Estate Ferguson and Seven Hills Vineyards, and long-term relationships with many of the most prominent vineyards in Washington State are central to our well-known reputation for quality and consistency across our wine portfolio."
Marty Clubb is the co-owner, with his wife Megan, and he is the managing winemaker today. Wine & Spirits magazine has recognized L'Ecole as a Top 100 winery for 15 consecutive years. In 2014, Decanter praised their 2011 Estate Ferguson as the best Bordeaux in the world.


Very old vines are a key to L'Ecole success. Many were planted in the 1970s and 1980s. Winery literature notes: "Meticulously managed to L'Ecole specifications, we farm the same vineyards and specific blocks of fruit each year with the goal of achieving the highest level of quality. These efforts contribute significantly to the trustworthy reputation of our wines vintage after vintage."
L'Ecole No. 41 Walla Walla Valley Syrah Estate Seven Hills Vineyard 2018 delivers rich, ripe, impressive flavors and an impressive, polished overall experience. Syrah lovers will lap this up with glee. Dark fruits dominate the experience—this is a pure syrah play after all—also delicious in that sphere. Give the wine time in air, decanting is not essential but should be considered. Swirling time in a big glass also does the trick. The wine reflects a top-tier vineyard and experienced, skilled winemakers who know how to evoke wow out of Walla Walla. Clearly worth a sip. Pair with beef; lamb; wild game—venison; pork; poultry; cedar-plank salmon; cheddar, roquefort, gorgonzola, pecorino, camembert, brie. $37-48