Deep purple color; black cherry, blackberry on the nose; raspberry, plum, leather, black tea on the palate.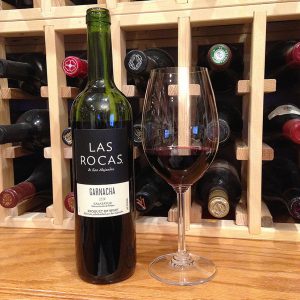 Dry; good acidity (3.65 pH); medium-light tannins; definite tang and tartness on the finish. Oak without the sweetness of oak; meaty savory elements; smoke, mocha and chocolate; 100% garnacha from Calatayud, an arid, hilly region in northeastern Spain.
Las Rocas was founded in 1962 as a growers' co-operative in the small town of Miedes (population 530), 55 miles north of Madrid in the province of Zaragoza. Today, the co-operative includes more than 350 growers. Yolanda Diaz is the managing director. She asserts "fruit always comes before oak" and "the most important element in our winemaking philosophy is to keep intervention at a minimum. We let the land speak in the wine."
Garnacha (grenache) is the second-most planted grape variety in Spain, surpassed only by tempranillo. It is planted everywhere, but most notably in the north and east parts of Spain, where the grapes for this wine were grown. It is hardy and vigorous with a strong wooden frame, so it often is grown as a free-standing bush without the trellising typically associated with wine vines. Because it does well in hot climates, it often produces ripe grapes with high alcohol—this effort is 15% ABV. Raspberry is a signature flavor, and this wine has that.
E&J Gallo purchased the Las Rocas brand in 2009 and markets and distributes it in the U.S., meaning this is widely available.
Las Rocas de San Alejandro Garnacha, Calatayud DO 2014 is a solid wine and great value for price pour if you want a substantial red without oaky, juicy sweetness. It will pair well with lamb, spaghetti and meatballs, beef and potatoes, and beef crockpot creations. $12-14