Deep gold with hint of green color; pineapple, yellow apple, vanilla on the nose; pineapple, peach, citrus, lemon, yellow apple on the palate.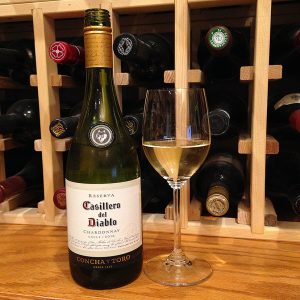 Dry; medium body; good acidity; pear, peach pith emerge on long finish; touch of vanilla from partial aging in French oak (30% of the juice). This is no-faults effort. Easy drinker. There is minimal fruity sweetness and no residual sugar, so it is true to chardonnay—clean, focused. Made in Chablis style, but less sharp and austere. Definitely not in fruity, buttery, oaky style. This is palate-cleansing companion to food rather than wine you would knock back while kibitzing with friends.
Concha y Toro consistently delivers great value for price. Casillero del Diablo is one of their premium wine labels—they also have fine wine labels (Don Melchor is the flagship) and varietal labels (Fontera and Sunrise). Marcelo Papa is responsible for this wine. He earned a degree in enology from Univeridad Católica de Chile, joined Concha y Toro, and has been head winemaker at Casillero del Diablo since 1998.
Concha y Toro is Chile's biggest winery and an important player on the world wine stage. Don Melchor de Santiago Concha y Toro founded the winery in 1883. When he saw that some of this best wines disappeared from the cellar, Don Melchor decided to put an end to thefts by creating the story that the devil lived in the cellar, which was in the deepest and darkest part of the winery. The Casillero del Diablo rumor spread. Some claimed to have actually seen diablo (devil). The thefts stopped. Today, the legend lives on more as a marketing ploy than a play to frighten would-bed cellar robbers.
Concha y Toro, BTW, is Spanish for "shell and bull." The Casillero del Diablo story may contain some elements of bull, but the wines consistently are very drinkable values and Chile—and Argentina on the other side of the Andes—are major contributors to the exquisite abundance of quality wines in the world today.
Concha y Toro Casillero del Diablo Reserva Chardonnay 2016 is clean, no-frills, simple expression of chardonnay; great value; widely available. It will pair well with creamy, white-sauce pasta dishes, delicate fish such as sea bass, sole, or turbot, and chicken cordon bleu with Alfredo sauce. $9-11