Pale straw color; lemon zest, peaches, crème brioche, almond on the nose; apple, nectarines, apricot, peach, Meyer lemon on the palate.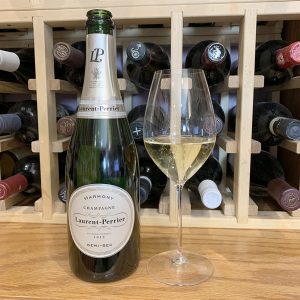 Demi-sec, which means significant sweetness element. Demi-sec, 32-50 g/L (grams per liter) of residual sugar, is sweeter than dry (17-32 g/L) and not as sweet as doux (50+ g/L). By contrast, brut is 0-12 g/L; extra dry is 12-17 g/L. This is very soft, round in the mouth with delicate flavors, led by chardonnay. The website does not have technical notes, but it appears this is 45% chardonnay, 40% pinot noir, 15% pinot meunier; 12% ABV.
The Laurent-Perrier website notes: "The general movement towards drier wines, together with the habit of drinking champagne as an aperitif, has popularised the consumption of brut champagnes. However, many wine-lovers still enjoy the sweetness of past pleasures provided by a Demi-Sec." You will get sweetness balanced by significant acidity, especially on the mid-palate and finish.
Rich, plump, creamy, and did I mention sweet? Light-medium body. Laurent-Perrier use the same juice to make this and their La Cuvée offering, but put more dosage to elevate the sweetness in Harmony. The La Cuvée is about 9 g/L, while this is about 40 g/L.
André Michel founded the House of Laurent-Perrier in 1812 and took the name Vve Laurent-Perrier when Mathilde Perrier, the widow of Eugène Laurent, combined the two family names to expand the business. Eugénie Hortense Laurent, Mathilde's daughter, inherited the house in 1925 and sold it to Marie-Louise Lanson de Nonancourt in 1939.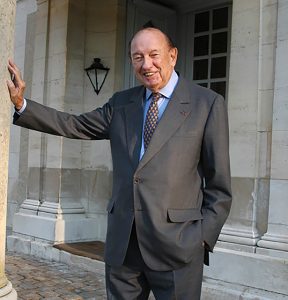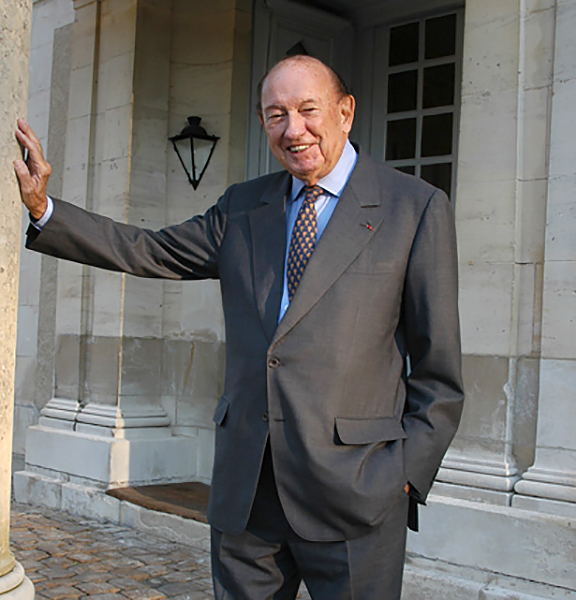 During World War II, Marie-Louise ran the business while her two sons, Maurice and Bernard de Nonancourt, joined the French Resistance. Maurice died in a German concentration camp. Bernard survived and began an extensive wine apprenticeship; in 1948 he assumed the position of chairman and chief executive officer. He led the way to create the signature Laurent-Perrier style of freshness, lightness, and elegance with an emphasis on chardonnay grapes and fermentation in stainless steel.
Today, Laurent-Perrier is sold in more than 160 countries and is the world's third best-selling Champagne brand behind Moët et Chandon and Veuve Clicquot. It also is one of the few remaining family-owned Champagne houses.
Laurent-Perrier Harmony Demi-Sec Champagne NV is a wine for lovers of sweeter wines. This is not so sweet as to qualify as a dessert wine, but it is noticeably sweeter than the brut and extra dry that are the most popular sparkling wines today. Clean, refreshing. A good expression of demi-sec sparkling, you just have to find out if sweet is a style you embrace. This can be enjoyed on its own, and certainly will work as a toasting wine at a festivity where significant percentage of guests are not into dry wine. Pair with spicy foods; richly flavored Asian and Indian food; desserts and pastries; mild and soft cheese. $40-50