Salmon-orange color; honey, baked apple, grapefruit on the nose; red apple, honeysuckle, raspberry, light citrus, drop of honey and pear nectar on the palate.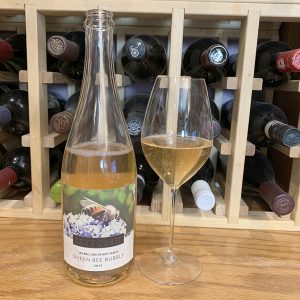 Dry to off-dry; superb acidity (3.09 pH); delightfully smooth. Vigorous, intense, very tiny bubbles. The wine is made using estate honey and encapsulated yeast, which remains as small rounded bits in the bottom on the bottle. The bottle is sealed with a crown cap (same as you find on a beer or soda bottle). Champagne and all fermented-in-the-bottle wines are sealed with a crown cap during production. The cork mushroom closure comes after fermentation, so this is wine sold one step short of what goes into a finished méthode champenoise effort.
This is made using the pétillant naturel method, often abbreviated to "pét-nat." It also is known as "rurale", "artisanale", or "gaillacose". It is not a style of wine, it is a method for making wine. Crown cap closure is traditional in pét-nat offerings. The wine is bottled prior to full completion of the wine's first fermentation, which allows the carbon dioxide produced by fermentation of the natural sugars to form in the wine. The method makes for much finer bubbles than found in méthode champenoise wine, although the bubbles tend to not last as long. Even when the bubbles fade, however, you still have a very attractive white wine.
Pét-nat predates méthode champenoise. It originated by winemaking monks in Limoux in southern France in the early 16th century. With pét-nat—as with méthode champenoise—there is a second fermentation in the bottle, just (usually) not a disgorgement used in méthode champenoise. Thus the yeast found in the bottom of this bottle. Left Coast estate honey is used to fuel second fermentation in this effort. In méthode champenoise, the wine undergoes full fermentation, then is put in bottle with additional yeast and sugar (the liqueur de tirage), then there is a disgorgement, making for clearer liquid.
Pét-nat is a dicey production method with lots of variables. When it works, however—as it does with this effort—the result is a slightly rustic, lively wine that is extremely reflective of terroir. This comes from Oregon's Willamette Valley. It is 100% pinot noir, Wädenswil clone. The encapsulate yeast is intriguing at the bottom of the bottle, but poses some issues on the last pour. The freshness and clean, precise fruit and mouthfeel is more than worth the challenge; 12% ABV.
Suzanne Larson and Robert Pfaff purchased bucolic acreage in 2003 with a vision of establishing a winery committed to quality, sustainable farming, and attention to producing wine that reflected the terroir of Oregon's Willamette Valley. Then they brought in lead viticulturist and general manager Luke McCollum from Napa Valley, then winemaker Joe Wright. It has worked out quite well.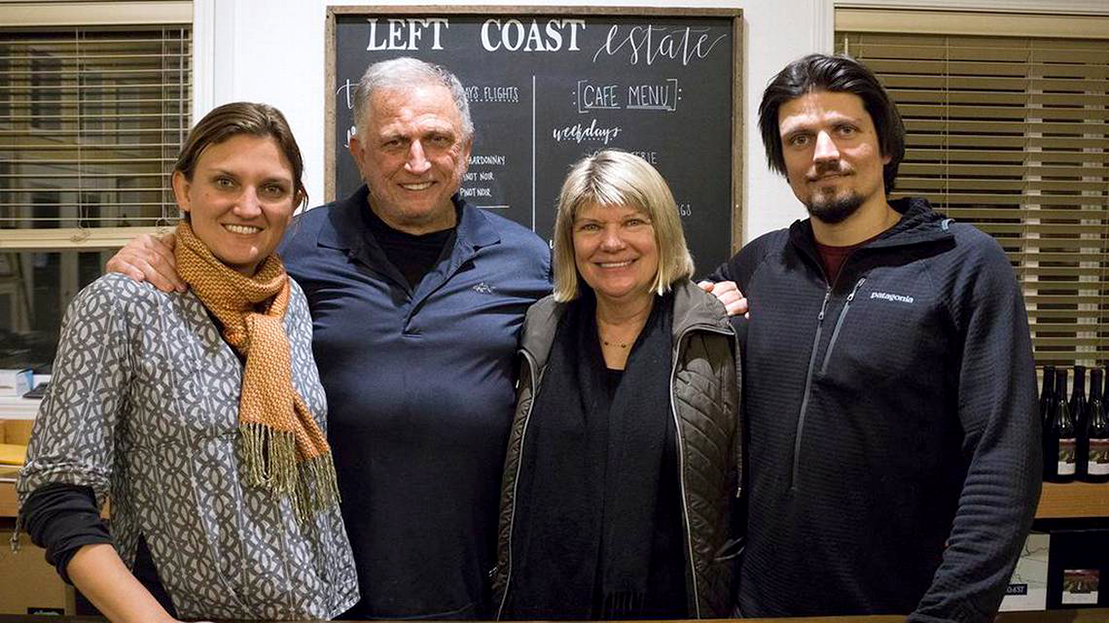 In 2016, the Pfaff's son, Taylor Pfaff, became CEO. He brought experience of six harvests and an MBA in Wine and Spirits from the Kedge Business School of the University of Bordeaux. Daughter Cali is a licensed landscape architect. Cali also is left-handed—three out of five Pfaff family members are left handed, which is part of the Left Coast story.
Daughter-in-law Christina Aragon (Taylor's wife) holds a degree in human kinetics from the University of British Columbia. She works as a lab technician at the winery and is involved in Left Coast's oak savanna restoration and other restoration and preservation projects. A wine-focused, environmentally-focused, sustainable agriculture-focused family. Bravo, Left Coast.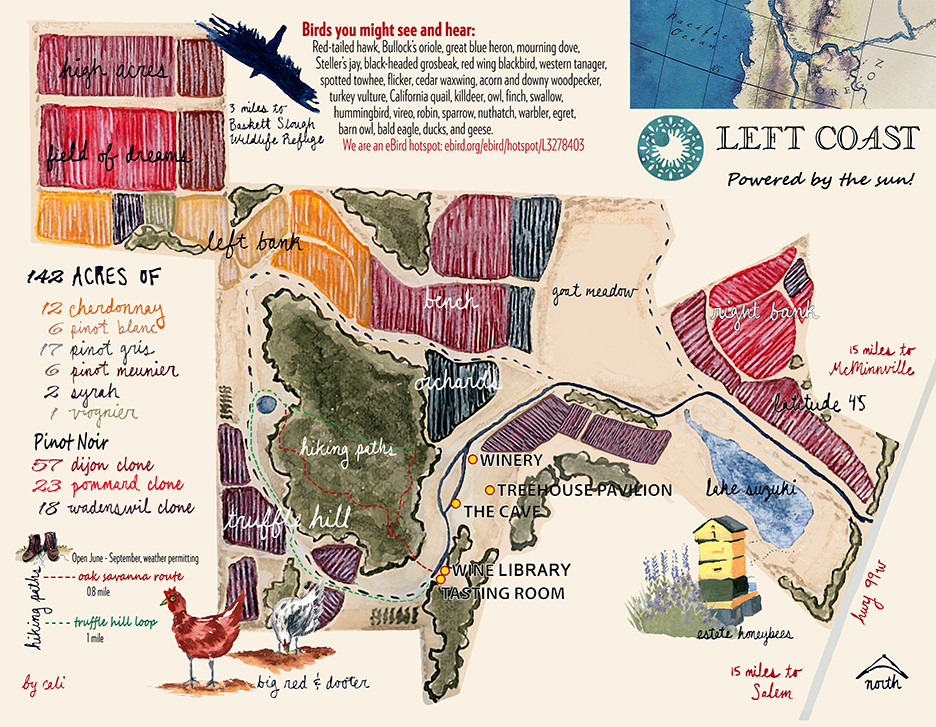 With an estate of 350 acres, 150 acres under vine, Left Coast is one of the largest contiguous vineyards in the Willamette Valley. The cellar's website notes: "There is not one terroir at Left Coast Cellars but many, allowing our wines to showcase multiple personalities of Willamette Valley wines, bound together through the thoughtful work of Luke McCollum in the vineyard and Joe Wright in the cellar."
The winery is LIVE (Low Impact Viticulture and Enology) and Salmon Safe certified. It participates in the Salud program that guarantees basic healthcare to seasonal field workers. The winery and vineyard are 90% solar powered, the second-largest agricultural solar operation in Oregon.
Left Coast Queen Bee Bubbly Sparkling Pinot Noir 2017 is delightful foray into the pét-nat style of sparkling wine. Delicate, precise, smooth, slightly tart pinot noir flavors pleasure the palate. Tiny taste of estate-produced honey—honey is used for second fermentation—adds intriguing complexity. Bravo for Left Coast taking a road less traveled and succeeding. Enjoy this by itself or pair with shellfish, angel hair pasta, garden salads, crème cheese. $30-36