Deep gold color; yellow apple, white peach on the nose; yellow apple, pineapple, white peach on the palate.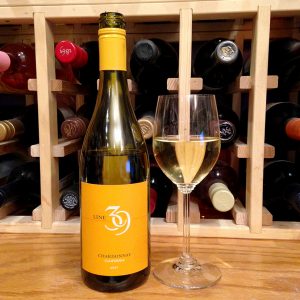 Dry; medium body with tropical and stone fruit notes, light oak (85% fermented in stainless steel, 15% in barrel; aged six months, mostly in French oak). Certified California Sustainable vineyard and winery; 100% chardonnay. Round, easy drinker; struggles some to create an identity, but is very nice background to food. Well positioned as a restaurant house wine poured cold. Rather than commanding attention, it complements food—nice acidity (3.52 pH)—and will not offend anyone. There is nothing wrong with this wine, but it also does not stand out as anything more than a very respectable commodity chard. The price is right.
Mark Rasmussen and Steven Decosta are the winemakers; they also are the winemakers at Austerity. The winery name comes from the 39th parallel, which runs through the California wine country. Line 39 uses grapes from throughout California for its large portfolio of wines; the chardonnay grapes came from vineyards in Monterey and Clarksburg.
Line 39 is a brand rather than a specific estate. There appears to be no winery or vineyards for the general public to visit—or to photograph. The Mark Wine Group represents Line 39. From the Mark Wine Group website: "Founded in 2007, and based in Austin, Texas,  The Mark Wine Group is a family-owned, fine wine sales & marketing agency; representing family-owned and independent wineries and importers, with a clear and simple vision; to provide the premier selection of quality wines to your favorite hotel and restaurant companies throughout the United States."
Line 39 Chardonnay California 2017 is very serviceable, food-friendly, basic chardonnay. Its métier is to complement food rather than to be found wonderful by itself. It succeeds at that mission, and at a sensational price point. Pair with roast or rotisserie chicken; chicken makhani; poached halibut, shrimp, bay scallop chowder, salmon fish cakes, lighter seafood; avocado and tuna tapas; pork or pasta in creamy sauces. $10-11