Deep ruby color; black fruits, smoke, vanilla, caramel on the nose; blackberry, black plum, boysenberry-raspberry, caramel, bourbon-oak and smoke, black pepper on the palate.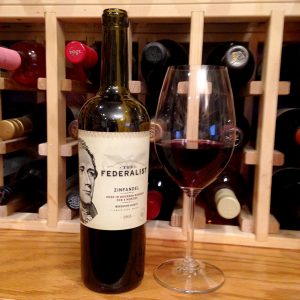 Dry; very fruit forward; medium-full body, but light for a zin; very smooth—only hints of tannin and acidity. As happens with many bourbon-barrel wines, especially zins, the bourbon flavor is a constant, along with the oak vanilla and caramel. This is more a wine beverage than a pure wine play—albeit a wine beverage that pleasures the palates of many people.
Blend of zinfandel, petite sirah, merlot. Aged in bourbon barrels for six months, which is longer than many other such bourbon barrel efforts. Drinks hot on the finish thanks to 15% ABV, but the vanilla and caramel ameliorates the effect.
The Federalist Vineyards are a Terlato Wine Group (TWG) brand, a four-generation American, family-owned wine company based in Lake Bluff, Illinois. They launched Santa Margherita as one of their brands in the United States, pushing pinot grigio in the luxury category. Santa Margherita reached 40% of Terlato's portfolio. The relationship with the Italian winemakers dissolved in 2016 and Terlato turned its focus on building and starting other brands—more than 50 and still counting. The Federalist was one of them, the hottest growing brand in Terlato's California labels.
The Federalist aims at the male millennial market—Terlato's millennial women brand is Seven Daughters, which features moscato. The Terlatos place an admirable emphasis on building a strong, family-owned and operated company. It isn't given to each generation. Each Terlato must work outside the family business and rise to a management position before they achieve a place in the Terlato management team.
Bottom line: Terlatos have made a name for themselves in the international beverage industry—they also are a player in artisinal spirits, especially Scotch whisky. Which means their foray into bourbon barrel zinfandel likely was a thoroughly focus-group tested effort—The Federalist already had a quality product in a traditional zin. There is a market for this wine beverage, and with placement in such distributors as Sam's Club, the Terlatos are going after it.
The Federalist Zinfandel Bourbon Barrel Aged Zinfandel 2015 falls into the specialized bourbon-barrel wine niche. More wine beverage than traditional wine, this effort happily does not transgress into the excesses of some bourbon barrel efforts, which is a plus. You are still going to get a lot of oak and caramel and bourbon, but you will not have to pull wood splinters out of your mouth or fear tooth decay and diabetic shock. Food pairing with bourbon barrel wines is tricky. You certainly can put it together with burgers and sliders, barbecue, pizza, and other red meat comfort foods. It also can be enjoyed as a solo sipper, in the manner of a tumbler of bourbon or a cocktail. $18-20