Deep ruby color; plum, cassis, cherry, raspberry on the nose; cherry, plum, raspberry, redcurrant, smoke, menthol, white pepper on the palate.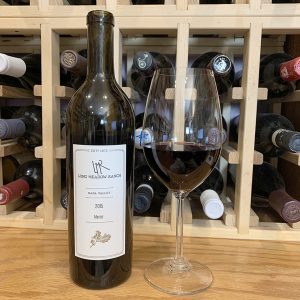 Dry; smooth tannins with appropriate acidity. Soft, supple in the mouth, but with enough redcurrant tang on the mid-palate to keep things interesting and not predictable. Slight oak notes. Power for a merlot-dominated effort—95% merlot, 2.4% cabernet sauvignon, 1.8% petite sirah, 0.8% petit verdot. All estate grapes from Mayacamus and Rutherford estates; 13.5% ABV.
Medium body. Struggles to be delicious, smooth, easy drinker. More a power play that should be paired with rich meats, and strong, savory flavors. Reviewers are all over the place with this wine—some thought it excellent, others average at best. I can see that. It has intriguing qualities, also some harshness and a short finish that clearly some reviewers found wanting.
I am not a pure merlot lover. I enjoy it immensely as part of a blend, but often find it does not soar on its own. In this effort, the merlot pretty much is on its own. I would not hesitate to pair this with the right foods—some pairings would be sublime—but I would not recommend it as stand-alone sipper or paired only with cheese or charcuterie platter. As a plus, this get's fruitier and more approachable with air in glass, so I decanted after first glass. Decanting improves this and is recommended.
Long Meadow Ranch is a collection of five properties: three in Napa Valley, one in Anderson Valley, and one in West Marin. The operation is owned by Ted, Laddie, and Christopher Hall. They employ an integrated, organic farming system, using simple, sustainable methods. Each part of the ranch contributes to the health of the whole. Vineyards and wine making, olive orchards and olive oil making, cattle and horse breeding all work in complementary fashion, as do the egg-laying poultry flock and the organic vegetable gardens. All crops are certified organic by California Certified Organic Farmers (CCOF) and are grown without the use of herbicides, pesticides, or chemical fertilizers.

According to the website: "In the late 1800s, the majestic Long Meadow Ranch property thrived with vineyards, apple orchards, olive groves, hay and a goat milk dairy until farming fell dormant during Prohibition. Over the following years, the property became swallowed by the encroaching forest until the Halls bought the property in 1989.
"The Hall family carefully breathed life back into the land, nurturing it back to its glory, and then some, by cutting back the abandoned olive trees and replanting the vineyards and apple orchards as you see them growing today. Home to the Mayacamas Estate, the rugged 650-acre landscape nestled in the foothills of the Mayacamas Mountains also gave way to a long, sweeping meadow, thus the name Long Meadow Ranch was born."
Today, Long Meadow Ranch farms includes three counties with more than 2,000 acres of grapes, olives, fruits, vegetables, and pasture land. Their vision: "To be a family-owned producer and purveyor of world-class wine and food that is economically successful and socially responsible using diversified, sustainable, and organic farming methods." Their motto: "Excellence through Responsible Farming."
Long Meadow Ranch Merlot, Napa Valley 2015 is interesting blend of merlot grace and softness with a secondary theme of power and assertive dark, smokey fruits. Merlot with more than a dollop of attitude. Decanting and pairing with food recommended. Pair with beef; baby back ribs; barbecue; pulled pork; gourmet hamburger; meatloaf; pot roast; lamb. $35-38