Deep ruby color; red cherry, strawberry, violets on the nose; black cherry, blackcurrant, plum on the palate.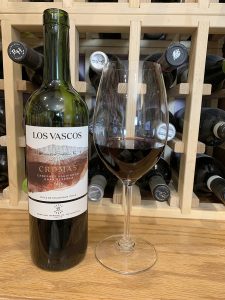 Dry; some rustic tannins on pop-and-pour. Decanting smooths things down nicely and integrates the dark fruit flavors. Medium body and creamy after decanting or spending some air time in your glass. Medium acidity (3.6 pH). Blend of 85% cabernet sauvignon, 10% syrah, 5% carménère. This is the first time Los Vascos used this blend formula. The winery notes this is the evolution of Los Vascos Grande Réserve. Half of the wine aged in French oak. 14.5% ABV
Domaines Barons de Rothschild expanded to South America in 1988, becoming the first French vinegrowing/winemaking investment in modern Chile. Los Vascos is located in Cañeten Valley, a closed valley in the central zone of Chile, 25 miles from the Pacific, part of Chile's famed Valle de Colchagua. With 5,400 acres—1,300 planted in wine vines—Los Vascos is the largest vineyard in the Cañeten Valley of Colchagua.
There are significant advantages to the Cañeten Valley. It is located in high foothills of coastal mountains, above the altitude where pests and diseases can live. The altitude engenders diurnal shift—plenty of sun and heat during the day, much cooler temperatures at night, a classic formula for quality wine. In addition, the mountains shield the vineyards from air and water pollution.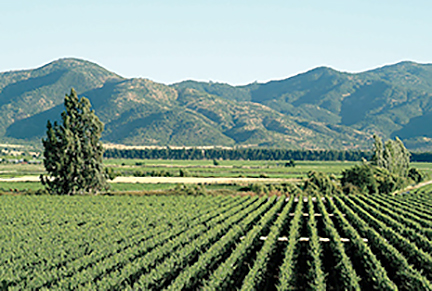 The website comments: "Many properties were visited and many wines were tasted before choosing Los Vascos, because of its location near the ocean and its exceptional soil. Along with ideal weather conditions, Los Vascos benefits from intense exposure to the sun, adequate water sources, semi-arid soils and little risk of frost. At an average of 130 m above sea level and at just 40 kilometres from the Pacific Ocean, the microclimate of Viña Los Vascos has everything to produce fine wines."
Los Vascos Cromas Gran Reserva Cabernet Sauvignon 2018 is solid, traditional cab from historic Bordeaux maker's vineyard/winery in Valle de Colchagua in Chile. Rich, ripe dark fruits. Inviting and approachable, especially after decanting. The website notes the Cromas name "was inspired by the colors of nature to reflect how this wine expresses the message of the soil it is coming from and the know-how of the Los Vascos team." Maximiliano Correa is the winemaker for this effort.
Pair with the usual cabernet sauvignon suspects: grilled steaks; beef short ribs; braised beef; gourmet hamburgers; roast or grilled lamb; portabello mushrooms; hard cheeses—aged cheddar, gorgonzola, gouda. Richer, fattier, heavier foods do better than lighter fare. With lighter fare, cabs overpower the fare instead of complement it. $17-22
U.S. importer Taub Family Selections website