Medium garnet color; cherry, red berries, sun-dried tomato on the nose; cherry, red currant, raspberry, sweet balsamic on the palate.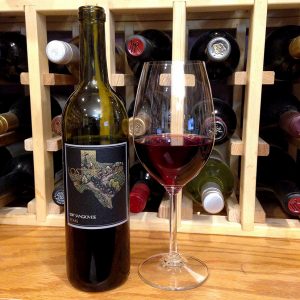 Dry; round, fruit-forward easy drinker—none of the rustic notes you find in Chianti Classico. Medium tannins, medium acidity, some oak. Red currant tang asserts on the mid-palate through the finish. The grapes for this effort come from the Texas High Plains AVA. The tasting room and winery is in Fredericksburg. Benefits from air in glass or decanting, which makes it even smoother. Medium body; 12.8% ABV.
Lost Draw Cellars is the Texas wine industry in a nutshell. Andy Timmons is a multi-generation farmer on the Texas High Plains—the vast flatlands between Lubbock and Amarillo and New Mexico. Timmons was a pioneer grape grower, a follow-on to his family career growing cotton and peanuts.
Grapes are a high risk, high reward crop. No agricultural product produces more income when everything works. Like almost all agricultural products, there is no reward when things—hail, late frost, tornadoes on the High Plains—go wrong. Timmons rolled the dice and today he owns and manages 500 acres producing 30 varieties, one of the largest wine grape operations in Texas.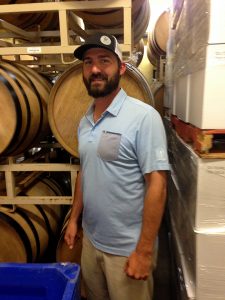 Andrew Sides, nephew to Andy Timmons, was an engineering student at Texas Tech University in Lubbock when he helped Uncle Andy plant his first vine crop in 2006 on a five-acre piece of the home place now called Lost Draw Vineyards. The family experimented with what would work on the High Plains—every Texas grape dreamer was doing this; the Old World had a two-plus millennium head start. Texans aren't dumb, however, and they looked to see what worked in France, Spain, and Italy in climates, soils, and elevations similar to the High Plains and Texas. Sangiovese, the signature grape of Tuscany and the grape used in making chianti, looked like a fit.
In 2010, Andrew Sides married his college sweetheart, Callie Ottmers. Callie's father, Troy Ottmers, is a bedrock citizen in Fredericksburg who traces his family roots back to the town's founding by German settlers in 1846. Ottmer Oil was a Fredericksburg institution from the 1930s into the early 21st century. Its industrial-like setting is sandwiched between a Shell station and a Chevron oil products depot, and across from the backside of the HEB grocery store—Texans will easily understand this triangulation.
This is Texas, and uncle, nephew, and father-in-law saw Ottmer Oil as an ideal place to have a Hill Country AVA tasting room and winery. That is the Texas formula—grow grapes around Lubbock in the eight-million-acre Texas High Plains AVA, then make wine or at least have a tasting room, in the nine-million-acre, high traffic Texas Hill Country AVA between San Antonio and Austin. Hey, it works. The Hill Country AVA is the second-most visited AVA in the United States, just behind over-crowded Napa.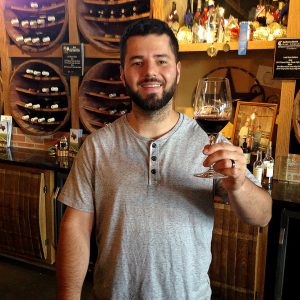 Like many Texas wines, you are not likely to find this at your local wine store. Sales come from their tasting room, 113 E. Park St. in Fredericksburg—well worth a visit. Tell manager Chris Herrera I sent you. They also sell through their wine club and via the internet. Lost Draw can ship to 43 states, so it is worth a shot. Lost Draw also sells two non-vintage blends in grocery stores (mainly HEB): Lost Draw Arroyo Blanco and Lost Draw Arroyo Rojo. As grocery store wines go, these are worth a try.
Lost Draw Cellars Sangiovese, Texas 2017 is a Texas friendly, easy sipper with a dollop of red currant tang to make things interesting. The well-conceived moderate alcohol sets this up as a pleasing liquid element of a meal rather than a boisterous red that demands all the attention and the food be damned. Pair with pork roast; prosciutto and Tuscan salami; lean red meats; grilled vegetables; pasta with meat sauce. $34-38